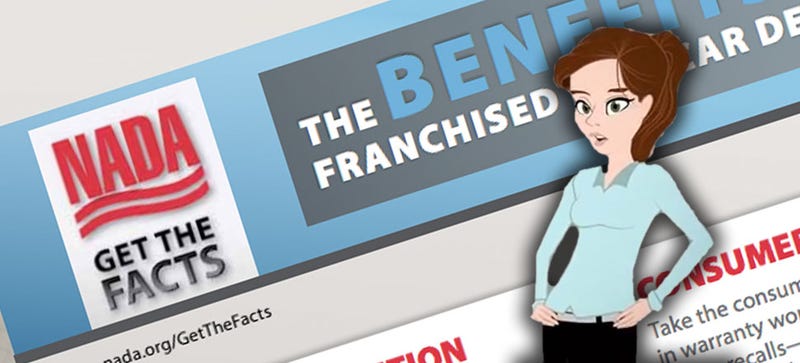 The National Automobile Dealers Association is feeling threatened, thanks mostly to the work Tesla has done to set up company-owned stores to sell their cars. That's bad news for independent car dealers, who are now feeling like a cornered animal. Like cornered animals, they're attacking with the tools nature gave them: animation.
Well, to be fair, with animations and web pages, and PDFs. They have some valid points, sure, but they're also taking some pretty big liberties to get their point across. Let's take a nice, detailed look at their little cartoon here and break down exactly what's going on.
So, I guess that means you should probably actually watch the damn thing:
Fine watching, everybody. So let's go through some of the key points brought up here. Let's start with the first main premise:
Here's the setup. There's a person there, who's the stand-in for us, the viewer. I don't think it's an accident it's a woman, who, statistically and anecdotally are the gender that tends to feel less comfortable with car-buying. Still, woman or not, she's our avatar here, and, really, she's just like us: fit, sexy, fantastic posture, and lives in a beige void/wasteland.
Let's look at that thesis question there:
But will DISMANTLING the car-buying experience HELP CONSUMERS OR HURT THEM?
The key word here is "DISMANTLING." That's a pretty destructive-sounding word. The idea that the car-buying experience will be dismantled seems to imply that if it is, then to get a new car you'll have to engage in armed combat in the Thunderdome. Sure, if you just want a Mitsubishi Mirage, you'll probably just have to hit a tween in the face with a length of motorcycle chain. But if you want a Benz or a BMW, get ready to fight off a pack of goons armed with leaf springs sharpened into cruel spears.
Really, there's nothing about the car-buying experience that will be "dismantled" if manufacturers come in with their own stores. There will still be a well-organized and carefully-run car-buying experience. In fact, central control will likely mean even more homogenization and order than there is now. So let's call bullshit on this initial question.
Next we get to the idea of competition. And here the dealers do have a valid point. Since the same car brand can be sold by multiple, independent outlets, it is absolutely possible that you can cross-shop the same model of car from dealer to dealer to find the best price, service, and whatever other perks or options that you want.
Having manufacturers run their own stores would mean that there'd be one price for a given make and model of car, and that's it. So, if you like haggling and pitting dealerships against one another, you'd be out of luck.
Which brings us to the next point. Most people don't like doing that. At all. In fact, a recent study showed that most Americans would rather give up the sublime joy of the physical act of love or do their taxes instead of having to haggle with a car dealer. People hate buying cars from car dealers.