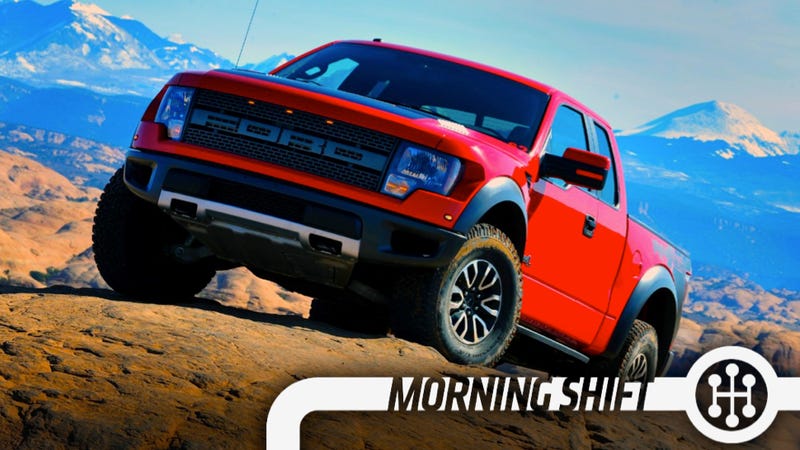 This is The Morning Shift, our one-stop daily roundup of all the auto news that's actually important — all in one place at 9:00 AM. Or, you could spend all day waiting for other sites to parse it out to you one story at a time. Isn't your time more important?
1st Gear: America's Truck-And-Econobox Addiction
You're hearing a lot lately about how whatever month we're having is the "best month in X years" and usually it's about seven-to-eight years. What happened last time? Gas prices were reasonably low and America was again buying SUVs and trucks and big cars. Then the recession hit.
The economy is turning around, of course, and people are reacting slightly differently. Yes, of course, people are still buying a ton of trucks. They're also buying smaller, fuel efficient cars. This helped boost Toyota past Ford into a rare second place in U.S. cars sold last month (that and heavy discounting), reports Chris Woodyard.
It also helped brands like Mitsubishi, Mazda and Subaru post big double-digit gains, with the latter up a crazy 42.9% year-over-year.
It's true that part of Ford's problems stem from the inability to make as many Fusions and Escapes as the market demands, but vehicles like the Prius C are extremely popular right now.
2nd Gear: Speaking Of Toyota, They're Killing It
Is it fair to say that Toyota's past some of its bigger problems, even if some structural issues (and boring ass cars) remain? Toyota announced its quarter profit, and it was nearly double from last year. Seriously. 94% to $5.5 billion. If you were curious, that's how much GM will make in Europe… never.
As with other Japanese automakers, a weaker yen is making exports more profitable which, as Automotive News points out, is down 13 percent.
But there's more than that, Toyota's sales in the U.S. are like ZOMG OMG CAMRY. A new Tundra and new Corolla are coming and they're trying to move their current cars with massive incentives.
Hell, it works.
3rd Gear: The Chevy Cruze Is America's Best-Selling American Car
What is an American car? If it's a car built in America, then the Camry is definitely the most popular American car in the U.S. If it's one from the big-Three, then it's the Cruze jumping ahead of the Fusion.
The YoY change for the Cruze is an almost silly 70% jump, and that's before mass sales for the Cruze diesel.