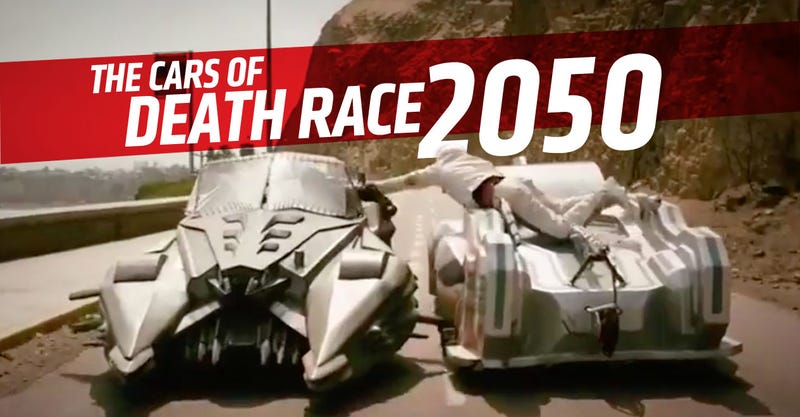 I'm sure everyone here remembers the classic cult film Death Race 2000 remarkably well. It was the heartwarming tale of a dystopian America and the massive, homicidal transcontinental race that took place every year to act as an opiate for the debased masses. Now, Roger Corman himself is doing a remake, and based on the trailer, it looks like it'll be as bonkers as the original. Now let's really check out the cars.
The a key part of the original Death Race was that the competition wasn't just about racing, it was also about using cars to murder. People, animals, and yes, even babies were targets for points. Here, just watch the original trailer:
See what I mean? As they say, it's a cross-country road wreck and the traffic is murder. It looks like the same setup is present in the new one, Death Race 2050, as you can see point values for humans right in the trailer:
(I should mention that there was also a 2008 remake, but it was a very serious, big-budget, and color-desaturated affair. This latest remake seems to retain that campy Corman cult-movie feel.)
Death Race has always been about satire and social commentary, and there's plenty of that to be seen, right here on the big map of the United Corporations of America:
Guugleplex? Ama Zone? I imaging vast areas of warehouses and data centers. There's also Caucasia (New Jerusalem seems to be the capital; I bet it's a good place to get deals on Promise Rings), Onepercentia (good artisanal synthhams there), and the grim Call Center Territories.
This is not a bright future.
But, it is a future with cars, so that's a plus. In the trailer, I think I've identified five competing racecars, and one other car we'll get to in a bit.
The design of the cars is complicated, full of facets and lumps and vents and sharp tooth-and-tusk-like protrusions. Conventional aerodynamics don't seem to apply. These are basically what Toyotas are going to look like in two years.