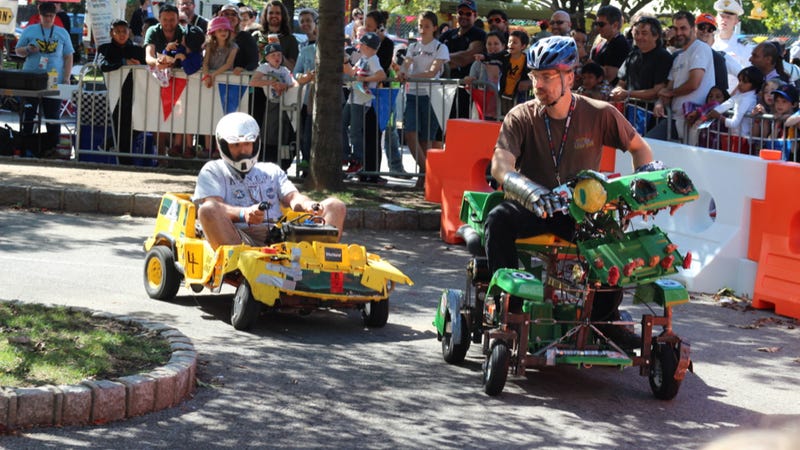 If there is a way to race something, people will race it. Enter the Power Racing Series, which is basically souped up Power Wheels built on a budget of $500. It is one of the most ridiculous, crazy, innovative, fun, and dangerous racing experiences I've ever seen, and you need to do it now.
At our party for the Jalopnik Film Festival, I had two guys named Jim and Patrick come up to me, and start talking about their Power Wheels race series. At first, I thought they were lunatics. Then we started talking more in-depth.
Power Racing Series cars have a total budget of $500 and have to be all electric. The "template," if you will, is a Power Wheels like you had when you were a kid, but bespoke chassis are the norm. And when I asked about what wasn't allowed, the main thing was that no go-kart wheels, rubber, or chassis make the cut. That's it.
So that means wheels from bicycles and wheelbarrows. Hand welded chassis. Entrants in these races are probably members of Harbor Freight's frequent shopper program. When I asked about pre-race tech, I was told it's minimal. If it breaks, it breaks. I was intrigued and they invited me to their race on Sunday at the Maker Faire in Queens. I still think they're lunatics. But good lunatics.