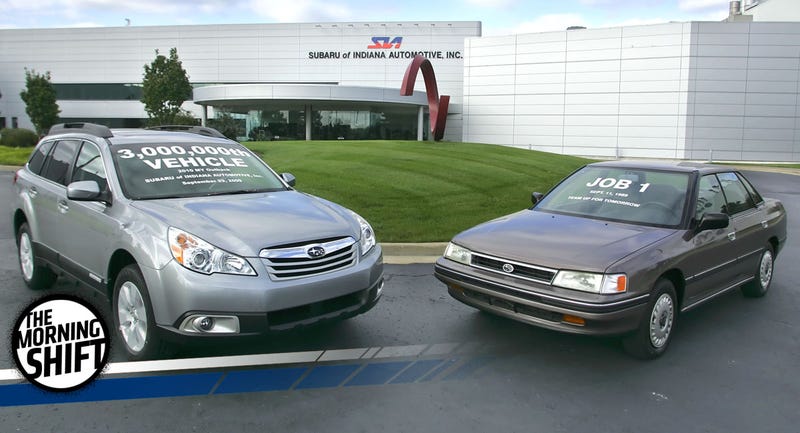 Good morning! Welcome to The Morning Shift, your roundup of the auto news you crave, all in one place every weekday morning. Here are the important stories you need to know.

1st Gear: You Know Who's Making America Great Again? Subaru
The American automakers are continually under fire for moving jobs, or appearing to move jobs with production shuffles, which few people outside the industry understand and tends to look bad. Do you know who's not? Subaru, which is expanding its Indiana plant to build the next Impreza. At a time when small car sales are struggling, no less. The non-union plant makes 380,000 vehicles a year.
Via The Detroit News:
The carmaker announced earlier this year it is expanding its Lafayette, Indiana, plant to produce its all-new, fifth-generation Impreza compact. The Impreza made its testing debut to media here this month and is now arriving in dealer showrooms.

While political necessity often reduces trade issues to bumper-sticker slogans, the Subaru vs. Ford situation reflects the complex factors that drive plant location in a global market.

Though Subaru won't give precise figures on how many Imprezas will roll out of its huge, 3.4 million-square-foot facility, the Indiana plant is expected to meet U.S. demand for the popular, all-wheel drive sedan and wagon. The non-union operation makes 380,000 vehicles a year (including Legacy sedans and Outback crossovers). The previous-generation Impreza was made in Japan.

"Subaru Indiana Automotive has a long history of building high quality vehicles," says Senior Executive Vice President of SIA Tom Easterday. "Indiana has a very favorable business climate, many Subaru suppliers are located nearby, and we already have the administrative structure in place — so it made sense to expand SIA rather than build a plant somewhere else in North America."
Get out there and buy a real American car, like a Subaru.
2nd Gear: This Again
While General Motors won the first group of so-called "bellwether" lawsuits related to the defective ignition switch in multiple vehicles linked to 124 deaths and 275 injuries, it is now asking the U.S. Supreme Court to reverse a lower federal court decision that stated "new GM" doesn't get a bankruptcy-related shield from those lawsuits.