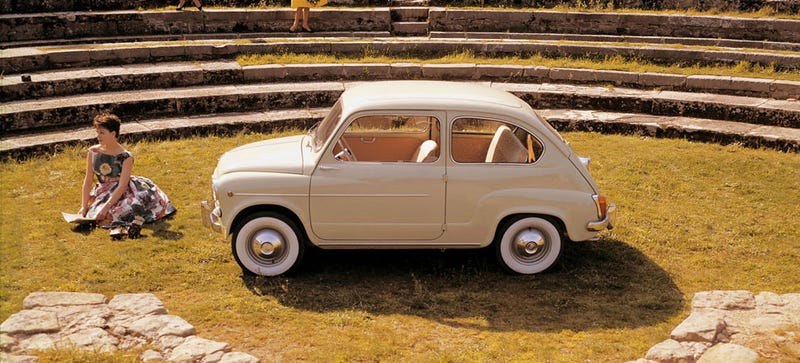 Right now, the most famous Fiat (at least in the US) is the Fiat 500. The 500 has become the iconic Fiat, the mascot of Fiat, and while it's certainly a car that earned that status, I've always felt that it's older big brother, the Fiat 600, never really got the credit it deserves. Let's try and fix that.
First, there would be no Fiat 500 without the 600. The Fiat 600 defined the fundamental design of the 500, and it wouldn't be out of line to say the Fiat 500 is really just a scaled-down 600. The 600 was designed by Dante Giacosa, and was the first of a long line of rear-engined Fiats, spawning derivatives that ranged from beach cars to serious sports cars to one of the first minivans.
The basic design was somewhat similar to a Beetle, but with some pretty key differences: water-cooled inline engine, unibody construction, and a good bit smaller. Clever packaging let the tiny car seat four and even include a little 2.3 cubic foot trunk — maybe not original Mini-levels of space utilization, but it wasn't bad at all.