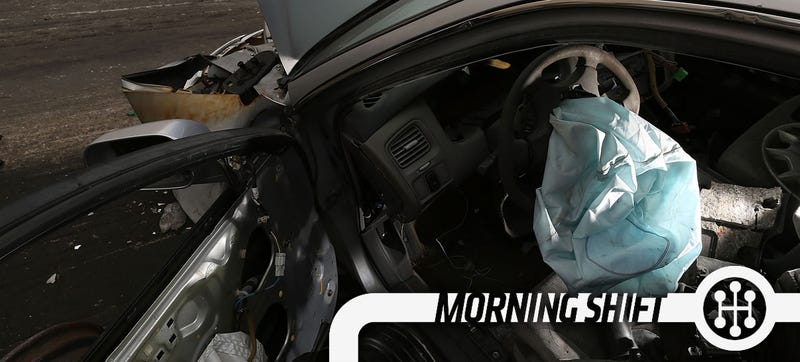 Good Morning! Welcome to The Morning Shift, your roundup of the auto news you crave, all in one place every weekday morning. Here are the important stories you need to know.
1st Gear: Isn't That All Of Them?
The staggering scale of the Takata airbag crisis became that much more staggering yesterday when U.S. auto safety regulators announced that there are about 85 million more Takata airbag inflators in this country alone that might eventually need recalls.
Eighty-five million. And that doesn't include the nearly 30 million airbags already recalled. Here's Reuters:
This is the first public accounting by the U.S. government of the total number of unrecalled Takata air bag inflators. So far 28.8 million in the United States have been recalled due to the risk that they can explode with too much force and spray metal shards inside vehicles.

More than 11 people have been killed worldwide in incidents linked to defective Takata inflators, including the March 31 death of a 17-year-old driver in Texas. Globally, more than 50 million have been recalled.

Further recalls would add to already hefty estimated bills for the Japanese parts maker.

Analysts have estimated that if Takata is found to be solely responsible for the fault in the inflators, now the subject of several industry investigations, it could face a bill of more than $3.5 billion for inflators recalled to date.
Insane.
2nd Gear: The New 7 Gets An Airbag Recall Too
Speaking of airbags, the all-new 2016 BMW 7 Series faces a stop sale and a recall too because its airbags (from Continental, not Takata) may not go off in a crash. Here's Reuters again:
BMW AG (BMWG.DE) has stopped the sale of some of its 7 Series vehicles in the United States and said it would recall them because of an air bag deployment issue, the company said in a filing with U.S. regulators.

BMW 7-Series models made from July 1, 2015 through December 11, 2015 may have a defective control module for the air bags which could keep them from deploying in a crash. Affected vehicles are from the 2016 model year including 740Li, 750Li, and 750 Lxi.
I'm currently testing a 750Li. Better try extra hard not to crash this one!
3rd Gear: Is VW's New Boss A Lame Duck Already?
Herbert Diess is a man with a very hard job—maybe the hardest in the entire car industry at the moment. He's the former BMW executive tapped to revitalize Volkswagen (the brand, not the Group) in the wake of a number of problems, including the diesel cheating scandal.
But one issue that has dogged him is disagreements with labor leaders and the workforce. Here's Bloomberg:
Volkswagen sought to defuse the impression that Diess has been weakened by CEO Mueller's role in the talks. The VW brand chief "expressly welcomes" the agreement to start negotiations with workers as it will help "strengthen the brand," a spokesman for the unit said. Key Volkswagen power players declined to expand on comments made in a Volkswagen statement on Monday.

While Diess has won praise for seeking to slim down the VW brand's bloated administration and reducing complexity in the unit's portfolio, he's been criticized for failing to promptly inform labor leaders and other power players of key plans and initiatives, according to people familiar with Volkswagen's inner workings.

The company's complex internal politics has made life difficult for high-profile newcomers such as former CEO Bernd Pischetsrieder and Wolfgang Bernhard, past head of the VW brand. Both were pushed out a decade ago after running afoul of labor leaders.
4th Gear: Russia On The Way Back?
Russia's car market, and its economy as a whole, has been in the toilet over the last two years or so thanks to a recession and Western sanctions. General Motors has even pulled out of the market. Ford, however, stuck it out, and that gambit seemed to pay off with a 93 percent jump in first quarter sales, reports Bloomberg.
So Ford's looking for new ways to invest there on the hopes that the potentially huge market will come back:
Ford Motor Co., which spent more than $1.5 billion with a partner in the past five years to build cars and engine factories in Russia, is studying new investments in the country in a bet on economic recovery.

The national car market could still become Europe's biggest, and Ford wants to be prepared when demand recovers, said Mark Ovenden, chief executive officer at the U.S. company's Russian joint venture, Ford Sollers. Russian consumers may be more resilient than their Western counterparts, he said.

"We will continue to invest, and we are thinking now about what our next investment cycle in Russia will be," Ovenden said in an interview near Moscow this week. "We see Russia as a long-term play."
5th Gear: A Big SUV That's A Big Deal For Maserati
If you haven't figured out that the hulking Maserati Levante is an extremely important car for the struggling Italian brand, here's The Detroit News to spell it out for you. Maserati is hoping the $72,000 SUV, which arrives in U.S. showrooms this summer, will be their Porsche Cayenne moment:
The Levante is expected to accelerate Maserati's growth in revenue and earnings — driving it to meet lofty 2018 goals of a 15 percent profit margin, up from 4.4 percent in 2015.

The SUV segment has become a must for premium luxury brands since the introduction of the Cayenne in the early 2000s — a gamble at the time that led to the release of a second SUV, the Macan. The two vehicles sold more than 30,000 in the U.S. in 2015, accounting for 58 percent of Porsche's sales.

IHS Automotive reports that SUVs, including crossovers, have grown from 24 percent of global premium luxury vehicles in 2010 to an estimated 35 percent in 2015. The automotive consulting and advisory service firm estimates that segment to grow globally to 39 percent in 2021.

"Porsche proved that a niche sports car brand having an SUV is not an issue," said IHS Automotive senior analyst Stephanie Brinley. "You just have to do it well, and you have to make sure you align with your brand's DNA."

Reverse: Pontiac Was Later Fired