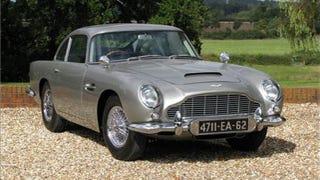 The DB5 made famous by 007 is for sale. Is it cheap? No Mr. Bond, they expect you to pay $4.7 million dollars.
This is not the first time the "most famous car in the world" has changed hands. This particular car is one of the two DB5s used as promotional vehicles for Thunderball states DuPont Registry. It has all the gadgets you expect, but it's not the car you see Connery leaning up against in Goldfinger.
There were actually four James Bond DB5s, with two being used for filming. The original car used for scenes with gadgets has disappeared while the one used in driving scenes went up for auction back in 2005 and again in 2010, when it sold for $4.1 million. That's a fair bit more than its $12,000 purchase price back in 1969.