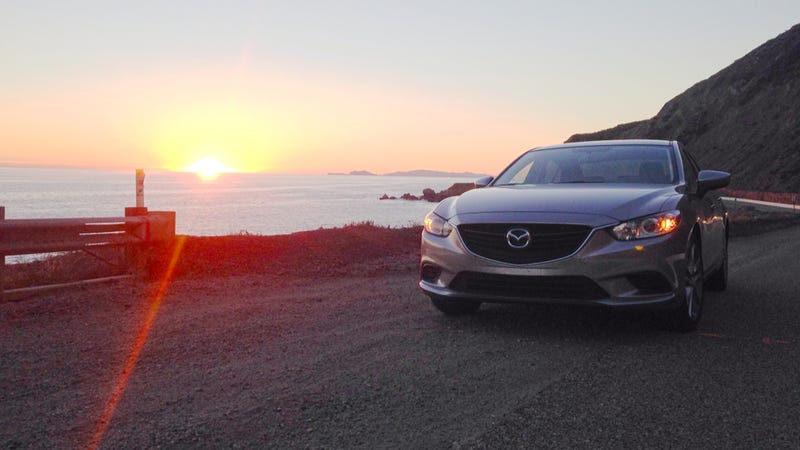 The 2014 Mazda6 has been lauded by everyone and their uncle who has driven it. When I first had a go, I said the best version to buy was the Touring with the manual transmission. Problem was, I never even drove it. Now I have, and it's lovely.
(Full Disclosure: I asked Mazda for a car to get team Jalopnik around LA during the LA Auto Show, and they kindly obliged with a Mazda6 Touring with a 6-speed. In addition to around LA duties, I took it 400 miles north to San Jose and back down to Los Angeles. A thorough test.)
When I first drove the 6, I was thrilled with most aspects of it, other than the clutch in the sport model with the six speed. For once, time has been kind and the clutch is actually better than I remember in 6 I just drove. It actually engages at a natural point and has a linear progression. It went from being awkward to a joy, as if the clutch finished going through puberty.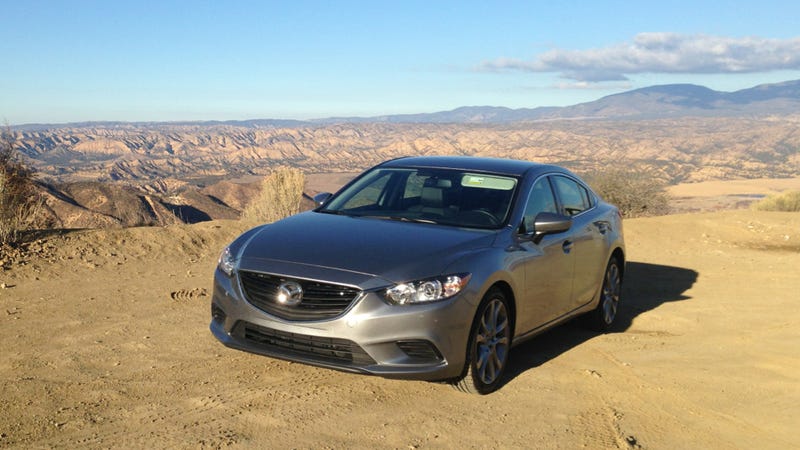 Steering is still a tad light and overboosted, but I decided to give it a real test of braking and handling by taking California's famed Route 33 through Ojai. If you haven't driven 33, you really need to. This is one of the best roads in America with a great variety of corners and straights. There is also some truly breathtaking scenery.
It's here where you can see the performance chops of a car. And, unfortunately, after a short aggressive run, the brake pedal became soft. When I pulled over to check it out, smoke was billowing out of the rear brakes. That is kind of expected though, and it speaks to how much fun the 6 is to drive. Like the Mazda3, it encourages you to get on it and drive quickly. With upgraded brakes (and a stiffer suspension to curb body roll), it'd be on par with much more expensive sports sedans in the twisties.
Steering is still a little overboosted for my tastes, but it is plenty capable to have some fun in faster corners.
On the highway, the 6 got gas mileage in the 30s at around 80 MPH which is pretty good, though below the EPA's 40 MPG bumber. Yesterday I spent seven straight hours behind the wheel and was never uncomfortable. The seats are fantastic and all the dash materials feel better than the super soft I had in my first test car.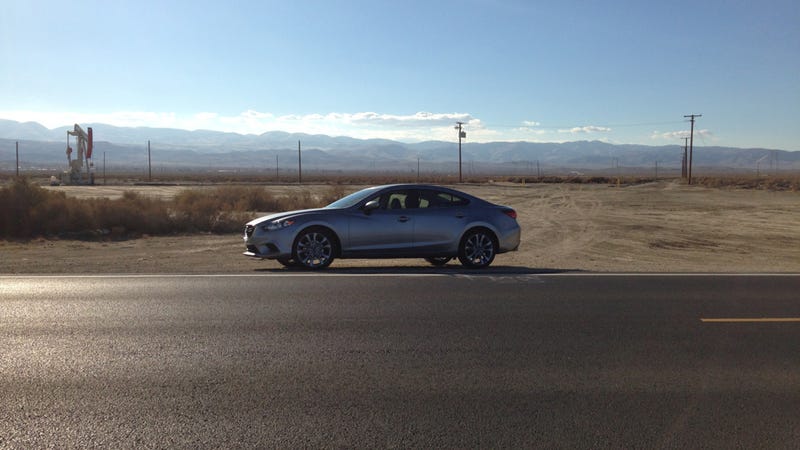 Now, the infotainment system, that was frustrating. See, it has this button that says "nav" on it. In this car, pressing that button does precisely nothing because it doesn't have nav. Mazda says you can upgrade to it later, which is a nice idea, but if you don't order it in the first place, what's the likelihood you'll use it? You'll use your phone for nav. And instead you'll have a nav button taunting you, looking all smug, knowing you'll want to press it but nothing will happen.
The system also decided my iPod couldn't play through it, and my iPhone could only work sometimes. Bluetooth audio playback from the phone initiated a phone call, and it wasn't high quality. Bruce Springsteen sounded like he was in even more of a tunnel than usual.
But those are minor compared to how much better this car looks and drives than any of its competitors. I think that after my second drive, I'm even more impressed by the 6. And the most impressive part is that the Touring with the manual that I drove cost just more than $24,000. In my book, that makes the Mazda6 the bargain of the century in the car world.
To take a line Louis CK once said about farts, you don't need to be smart to buy a Mazda6, but you'd have to be stupid not to.