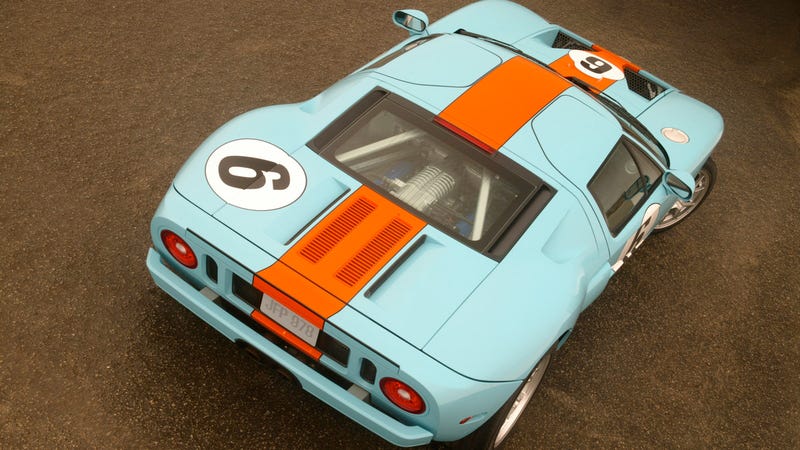 It's been six years since Ford stopped making the GT, and forty four since they last won at Le Mans with a car so low most of us wouldn't even fit in it. The original British-American GT40 racecar was good enough to kick Ferrari's ass thanks to Carroll Shelby's ideas, while the modern version was not only a brave answer to the question of an American supercar, but had also proven itself on the racetracks in GT1 and GT3 tunes. Carroll Shelby helped Ford with that as well.
Let's go from 1963 'till last year, or Lola to Hennessey, if you will.
---
Lola Mk6
Developed by Lola at their new factory in Slough, the Mk6 wasn't Lola's most successful racer. It made it on foot to Le Mans in 1963 where it revved out due to low-gearing on the Mulsanne Straight, then crashed. But since it was using a Ford V8, that was good enough for the Americans to contract them for their urgent Le Mans project instead of the declining Cooper team.
That was especially helpful after Colin Chapman's polite refusal. Lotus was way over its head at the time, while Henry Ford II really wanted to get back at Enzo Ferrari for cutting off a deal he already had spent millions on to take over Ferrari, which was dominating in Le Mans between 1960-65.
Photo credit: Lola Heritage
---
Ford GT40 Mk1
Since Lola had its own Le Mans team, Eric Broadley only agreed on a short-term collaboration, which meant only two Mk6 chassis were given to Ford. They hired Aston Martin's ex-team manager John Wyer, and sent Roy Lunn to England as well, as he was the only engineer at the company who had any experience with mid-engined cars, after making the Mustang I concept in 1962. Ford then established Ford Advanced Vehicles Ltd. After the first chassis was finished at Abbey Panels of Coventry, the GT/101 (the "40" was only a nickname at the time due to its height) was exhibited in New York, before being taken to the Nürburgring 1000 km in May, 1964. You can see Bruce McLaren and Phil Hill standing next to it in the pits. It retired with suspension failure.
Photo Credit: Ford Motor Company
---
Shelby Ford GT40
After all three GT40s retired at the 1964 24 Hours of Le Mans, Ford decided to let John Wyer go just after the Nassau race. The team was handed over to Carroll Shelby, with the cars being shipped to Texas without being cleaned from the dirt of the race. Shelby wasn't happy about that, but he got Ford a win at the car's maiden race: Ken Miles and Lloyd Ruby drove the Shelby to victory at the Daytona Continental 2000 km. Finally, Henry Ford II had a very good reason to smile. Back at home, the new Mustang wasn't doing bad either...
Photo credit: Ford Motor Company
---
MkII: Hammertime
The rest of 1965 was a disaster, but the experience they gained led to success the next year. The GT40 MkII was ready with its crazy exhaust pipes connected to a 7 litre V8. It was so powerful that it turned team mates into dangerous kamikazes, so the boss had to interfere with a hammer at the Sebring 12 Hour Race. Four people died there that day, but the race didn't stop for a second. The MkII scored Ford its first Le Mans 1-2-3 victory, but happiness was overshadowed. Bruce McLaren and Chris Amon were so close to the leading car driven by Ken Miles and Denny Hulme that Ford asked them to play it safe and cross the finish line at the same time instead of crashing into each other. But since the McLaren car started 18 meters behind Miles's GT40, it would have covered more distance, making the photo finish useless. Since Miles was very dedicated to the program, he felt so bad about Ford's decision that he slowed down just before the finish. He died two month later while testing the experimental "J-car" which later become the MkIV.