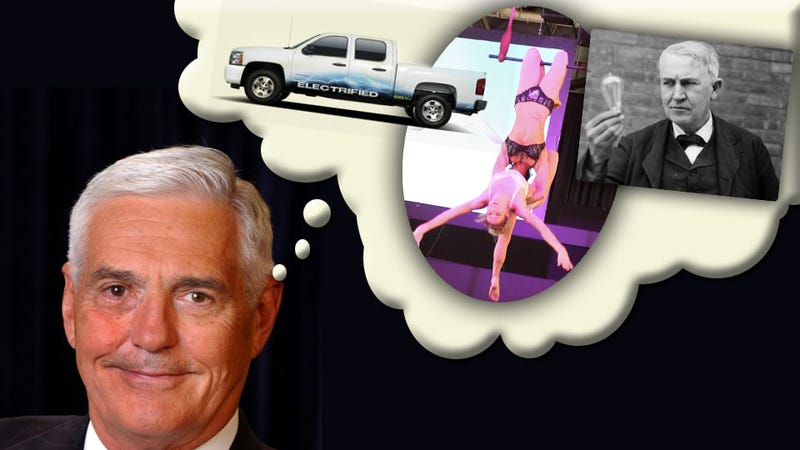 If I were to come up and merely explain exactly what I saw at the Via Motors press conference, chances are you'd take a few cautious steps back and suggest that I seek out my clergyperson. Here, I'll show you! Here's a hypothetical exchange between you and I, sweet, sweet reader:
YOU: Hey, Jason! It's me, all of your readers from Jalopnik!
ME: You're my readers! You're taller than I imagined.
(We hug like lifelong friends)
YOU: So, how did you spend the past 30 minutes?
ME: Great question. I stood with a group of people and watched two suicide-girl-type women with lithe, muscular bodies wearing lingerie climb up some ribbons and then toss and grapple one another in a eerily but humidly erotic manner, and then I watched an orange-faced man lie to a ghost. Oh, and then a clumsily customized truck drove up!
YOU: (look of disgust and dismay, slowly fading into genuine concern)
I hope you get the help you need.
The thing is, it's all true. What I just described up there was what actually happened. I'll clarify a bit:
The first part with the lithe women you can, and probably will, imagine in detail I can't hope to replicate here. Plus, I got to see a German journalist laboriously hit on both of them as soon as their four feet touched ground again, so you can picture that, too.
The part with the ghost is more complicated. See, they used a hologram to have Thomas Edison — or, more accurately, a dinner-theater actor playing Thomas Edison — engage in a conversation with Corporate Board Enthusiast Bob Lutz. But since it was an actor, they didn't need to have "Edison" as a hologram at all. They could have just had the guy come out and talk to Bob Lutz as Edison. But nobody cares about some old actor guy talking to Bob Lutz — that'd be stupid. A hologram (which was really just a projection on nylon) of some old actor guy talking to Bob Lutz, though? GENIUS.