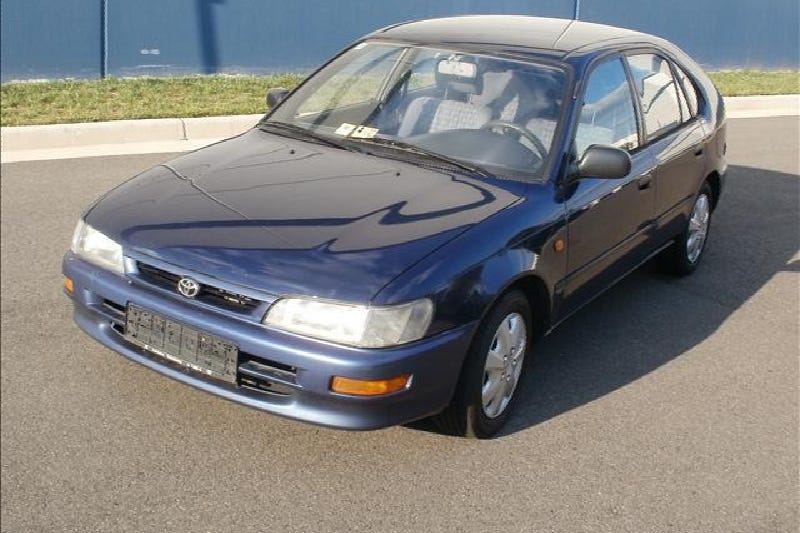 Strewn like Charlie Sheen's myriad coital conquests, the globe is filled with cars we in the states never get. Today's Nice Price or Crack Pipe E100 Corolla is one of those that miraculously now happens to be available. Will its price however, turn off even Charlie?
Have you ever seen the Aurora Borealis in person? It's an amazing sight and a night light show that evidences Nature's majesty. In contrast, Toyota's present small car staple remains the polar opposite of that phenomena, sort of the Corolla boring-all-of-us.
What if however, you somehow needed the Corolla's legendary reliability but still wanted to overcome its stigma for the unstimulating? Why, you might just turn to a surreptitiously and mysteriously imported model not officially sold here.
This dealer offered 1995 Corolla XLI 5-door hatch is visually similar to its NUMMI-built sedan siblings up front, but out back it shockingly possesses a gaping maw not seen on a US Corolla since the E90 edition went out of production five years earlier.
If the Most Interesting Man in the World were doomed to drive a FWD Corolla, he would likely drive this deep blue bomb. How did this car land on the lot of a Washington DC stealership? Who knows. From where did it come? No one's telling, and its 111111111... VIN number leaves much to the imagination.
What we can tell is that the car is left-hand drive and a 5-speed. That shifter's likely to have a very rubbery action, if it's anything like the cars officially sold here. In front of that stick sits a stack of CDs in the commodious dash cubby. I wonder if those come with the purchase of the car?
Seeing as the car is presently in Washington DC, it likely arrived here with some government employee returning from a stint overseas, but that's just speculation. The engine in this mystery Corolla is also a question mark as these cars - in Europe at least - came with four pots in 1.3 - 1.8-litres in displacement, and anywhere from around 85 to 115-horses.
Regardless of the size of the mill, this being a Corolla, both performance and handling is likely to be uninspiring at best. But while dull in action, it'll still draw stares of incomprehension anywhere you go here in the States.
Yesterday Zac teased us all with a slew of furrin' wagons denied our purchase, and while this Corolla isn't quite a wagon, it too is a forbidden fruit, the possession of which is a seed spit in the eye of Toyota's product planners and government thugs who want to outlaw responsible individuality.