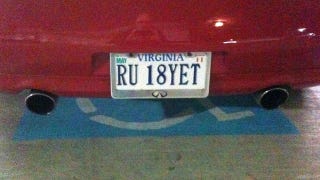 No, it's not a Photoshop, this Virginia plate reading "RU 18YET" is real. We checked.
You can thank the Virginia DMV for allowing this license plate to stay on the road.
Ironically, Virginia is abnormally strict about what custom license plates it approves. Famously, the VA DMV revoked the world's greatest license plate: "EAT THE" on the state's "KIDS FIRST" vanity plate. The owner struggled to get the plate re-approved and failed, only to watch as the DMV condone beating children and then approved a facsimile of the plate to someone else.