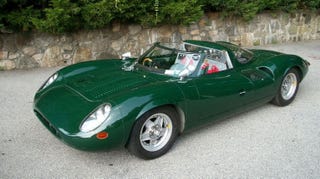 As 2012 rapidly ebbs from existence it's time to contemplate resolutions for 2013. It's also time to consider this Nice Price or Crack Pipe Jaguar XJ13 replica, and whether its price is worth resolving to pay.
One, Harry Nilsson once opined, is the loneliest number that you could every do. As such, Sir William Lyons' most outrageous expression of automotive felinity - the solitary XJ13 - might be a prime OED exemplar for forsaken, or philosophically, a monad.
Today, thanks to intrepid third party builders and liberal intellectual property laws, that original XJ13 need not feel like Haley Joel Osment at the end of AI.
Intended as a Le Mans (not to be confused with LeMONS) contender, the 1966 XJ13 prototype was a tour de force of Jaguar's racing engineering. Designed by Malcolm Sayer, who also was responsible for the C-type, D-type, SS and E-type, the XJ13 exhibited a profusion of aircraft building techniques that shaved off pounds while still providing the structural rigidity demanded of a long distance racer.
The XJ13 was wrapped in all-alloy clothing, and its shape is - to use a well worn cliché - pure sex. Under its perspex engine cover breathed Jaguar's first ever V12 engine, a 5-litre monster topped by twin DOHC heads clearly evidencing their lineage with their XK6 predecessors. That was mounted in a semi-monocoque all-alloy structure, backed by a ZF 5-speed gearbox.
The XJ13 program never really gained the critical support within Jaguar necessary for full fledged development, and the '67 purchase of the marque by BMC - soon British Shitbin - signaled the death knell for the nascent racer. To add injury to insult, the car was brought out for a 1971 photo shoot at MIRA where a deflating tire caused driver Norman Dewis to send the car rolling into the sticks, nearly destroying the XJ13, and rattling Dewis' cage. The car was rebuilt by a company named Abbey Panels using some of the original Jag jigs, and remains today as a museum piece.
A while back Raphael asked whether you might eschew a fleet of new Jag iron for just one XJ13, and your response in the aggregate was: I say old chap, whom is one required to service orally so as to make this occur?