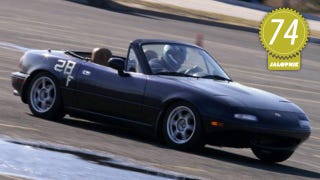 If you pose the question "what kind of car should I get" to anyone here on Jalopnik, the answer will invariably be "Miata," no matter what you need to do. Towing something? Miata. Date? Miata. First car? Miata. Moving to Alaska? Miata.
Since 1989, the Mazda Miata has been THE affordable sports car for the car guy that doesn't want to spend his entire day cleaning up an oil leak from a British convertible. It's lightweight, it's fun, it's the essence of motoring. But is it the perfect car? Yes. And no.
(Full Disclosure: Mazda wanted me to drive the Miata so bad that they started building them in 1989 and made it so irresistible that I purchased one with my own hard earned dollars. I don't want to say they built it just for me, but I'm pretty sure they did.)
When I was searching for a first car, I didn't want a Miata, at all. I actually hated the idea since, y'know, it's a girly car. But my Dad kept telling me I was wrong and that the Miata would be the perfect car for me. I used to race go karts, it's practically a go kart. I eventually came around.