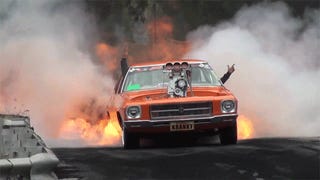 Cars are transportation devices, meant for carrying people from A to B. Some members of society, however, think that cars are meant for burnouts, drifts, and massively unsafe jumps.
We call them hoons, and these are the greatest ones of 2012.
Hoon is an Australian term for people driving recklessly. The country is full of big, rear-drive sedans coupes, and car-trucks, so all the good old boys would go around doing burnouts on the highway and other generally frowned-upon acts of car shenanigans. New 'hoon laws' mean you can get your car taken away for any of this 'hoonage.'
The rest of the world is more receptive to people going wild behind the wheel, proving that you don't need a racecar, a sports car, or even anything more than a hundred dollar crapcan to enjoy the simple pleasure of slaying tires.
We have tons and tons of videos culled from the dirtiest hours of all-night YouTube searches all collected under our Hoon of the Day series, and we had to leave off everything but the best of the best for our greatest hoons list. If we left off an amazing video shot and released this year, scream at us and leave the YouTube link in Kinja below.
And so, in somewhat chronological order, are the 13 greatest hoons of 2012. Pick your favorite and the most popular will be chosen as the Hoon of the Year tomorrow. We call this awards ceremony "The Hoonies."
Screaming Wife Takes A 185 MPH Ride Around Daytona
Joao Barbosa finished ninth overall at the Rolex 24 this year, piloting the third fastest Corvette prototype. Judging by the screams, tears and flailing arms of his wife , he's definitely fast enough.