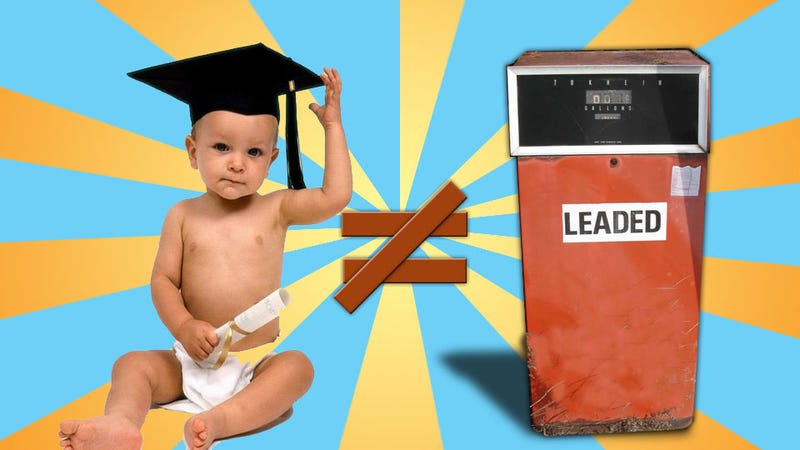 I've always thought that if I'd been breast-fed, I'd be taller and better looking. And now it seems I could have been smarter as well, if I'd spent less of my childhood inhaling generous lungfuls of leaded gas.
A New York Times Op-Ed this week that discusses the puzzling trend of increasing IQs in people references the findings of Dr. Philip J. Landrigan, who found that since the removal of lead from gasoline in 1976, there's been an 80% drop in blood lead levels, and in that same period a six-point gain in children's IQs.
Six IQ points is a big deal — if I had an extra six points, I'd probably be allowed to use scissors and forks on my own. And when you look at the history of Tetraethyllead — the form of lead used in leaded gas — it's not all that surprising.
The lead was used in gasolines for two major reasons: One, it helps prevent valve wear, especially exhaust valves, as the high temperature of the exhaust gases can cause tiny micro-welds to form between the valve and the valve seat — and then when the cam moves the valve, these micro-welds break, leaving a rough surface on the valve seat. Modern cars use hardened valve seats and better valve materials to work around this.
Lead was also used as a knock-inhibitor, allowing higher octanes with the lead helping to inhibit pre-combustion. That's why some AV gas still uses lead.