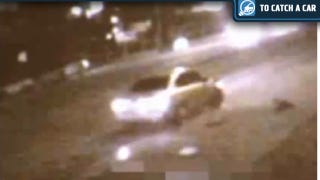 Law enforcement agencies from across the U.S. have reached out to Jalopnik for help with car identifications since your input was "critical" to solving a hit-and-run earlier this year.
This is just a horrible story. All auto-vs.-pedestrian fatal hit-and-runs are, of course, but this one involves a guy who didn't even have a chance to try and jump out of the way.
Robert Diaz was a 55-year-old man from Long Beach, Cal. He was also a quadriplegic, courtesy of an accident more than a quarter of a century ago. He used to go out for a "nightly amble" through his neighborhood.
That's what he was doing last Sunday night when he suffered what would prove to be fatal injuries when struck by a light-colored Honda Civic or Accord, a silver Nissan Altima or another four-door vehicle. The local NBC affiliate said the force of the collision sent "pieces of his wheelchair skittering across the street." Warning: This video is gruesome.
According to witnesses, the driver of said vehicle "got out of his vehicle and began walking toward Diaz." He fled before police arrived, though.
The hit-and-run itself was captured by surveillance cameras. Police released that video midweek in an attempt to catch the driver.
From the Long Beach Press-Telegram:
"He led a very difficult, compromised life and it's very unfortunate that it had to end this way," Diaz's son, Jason Diaz, said Wednesday at a press conference organized by the family at the Long Beach Police Department's North Substation. "This person needs to be held accountable for what they have done."
Yes, the "person" does. Both Diaz's family and police are asking for help. Let's see if we can tell them what kind of car they're looking for.