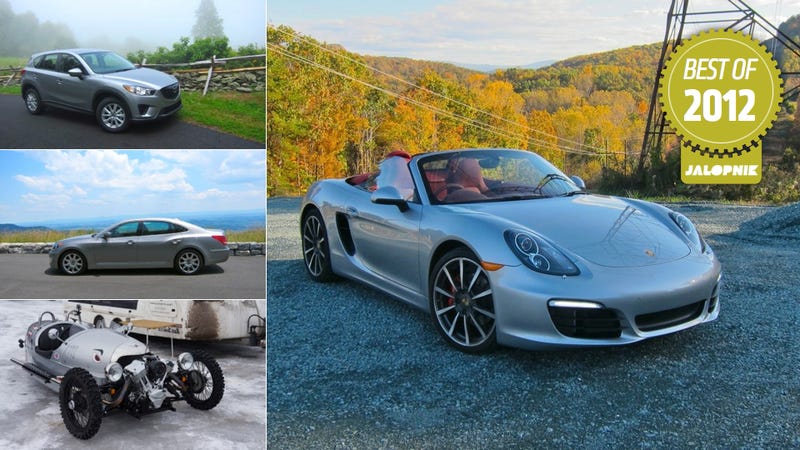 End-of-year awards tend to be impersonal and predictable, so we've left it open to our contributors to interpret the question: what are the best and the worst cars you've driven this year? Let's see what we get. Feel free to add your own to the list.
I thought I'd kick off this year's retrospective as I've probably driven a wider variety of cars in the last 11 months than at any point in my life. A lot of them were your typical new cars which are rarely anyone's favorites, but I appreciate when an automaker can make their appliances a little more interesting.
It's harder to make a good crossover than a good supercar, so even though I've driven a number of more exotic luxury vehicles I'm only placing one on my list this year. Here are the cars I loved, the cars I loathed, and the reasons why.
Best: Mazda CX-5
You should take car buying advice from people who have owned more cars than any human being logically should, so if you don't trust me (although I've owned a 240, a W123 and now a Merkur) you should listen to Jamie Kitman. He owns one of everything.
Earlier this year he made the point that we should buy Mazda products because Mazda makes the cars we all ask for and can actually afford. Cars that put a premium on design, handling, and engineering.
He was talking largely about the new Mazda3, which has always been a great car. I'm going to add the Mazda CX-5 to this list. Yes, the Ford Escape offers a better interior and more powerful engines, but the CX-5 is ultimately a better car.
There's no other crossover in this space that offers the dynamic handling, the fuel efficiency, and the thoughtfulness of the CX-5. I don't generally like crossovers, but I love the CX-5 for being the vehicle we were promised when they started to ditch wagons and hatchbacks.
It also has the best manual gearbox of just about anything I've driven this year. That's right. A car that costs less than $25,000 spanks those fancy short-throw boxes. It's smooth, crisp, and entirely intuitive. Want to learn how to drive a stick? Buy a CX-5.
Best: Porsche Boxster S
Hollywood tells us that after dating numerous supermodel hotties the prospect of dating another one becomes unappealing and thus the handsome guy or fetching woman decides to date the normal person who, lo and behold, turns out to be secretly hot underneath.
So it could be with Porsche. There's no such thing as a bad Porsche, making it easy to get a little complacent about the brand. In my life I've driven four different 911s, three different Cayennes, and a couple of Panameras. They're all fantastic. I drove an older Porsche 928 GTS this year. Also amazing.
Therefore I should have been unenthusiastic about the new Porsche Boxster S, another iteration of the entry-level-yet-still-pricey roadster with hand-me-down looks. I should be more excited about the Genesis Coupe, says Hollywood.
I'm not. There's a reason why the actors in these movies are married to supermodel hotties in real life. They're fun and gorgeous. Is there a more attractive new car profile? Doubtful. The Boxster still has hand-me-down looks, but they're hand-me-down from the Carrera GT not the 911.
Performance-wise there's little that I drove this year that made me feel faster, even if it isn't the fastest car I've driven all year. Its stupendous grip and Scaletrix-like handling meant that I reached my limits before the car did. And the sounds! If Barry White was an impact wrench, and that impact wrench was capable of making love, this is roughly what it would sound like.
Best: Morgan 3 Wheeler
The Morgan 3 Wheeler was the only car that broke on me within the first two hours. In fact, I spent more time fixing it than driving it. That makes it, without a doubt, one of the best cars I've driven. You can't put a price tag on unpredictability.