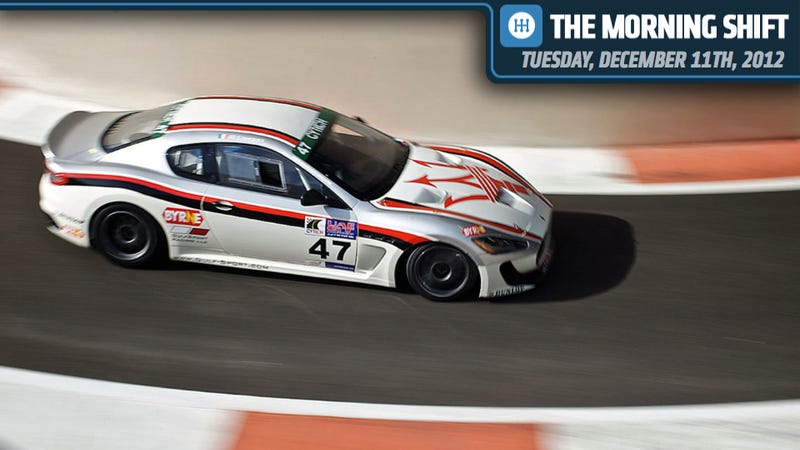 This is the Morning Shift, our one-stop daily roundup of all the auto news that's actually important — all in one place at 9:00 AM. Or, you could spend all day waiting for other sites to parcel it out to you one story at a time. Isn't your time more important?
---
1st Gear: Ford Says It Has A Fix To Avoid Fiery Death
The Detroit News says Ford has come up with a software fix that should alleviate the chance of engine fires on the 2013 Fusion and Escape. It plans to repair nearly 90,000 vehicles, after receiving reports of 12 fires. The company plans to make updates to cooling system software so that the vehicles' 1.6-liter engines can better manage overheating under certain conditions. It said the previous software system wasn't programmed to deal with a loss of coolant system pressure. "There's no mechanical problem with the engine. This is how we're electronically controlling some of the valves," said Raj Nair, Ford vice president for global product development, according to the News.
Customers should be able to get the software update starting next week. They've been told not to drive their vehicles, and presumably are using loaners from their dealers. Ford says the repair will take half a day, although dealers might need to keep the vehicles longer. The Escape has been recalled four times since it was introduced in June, while Ford has recalled the Fusion twice. According to the News, some drivers who have experienced high engine temperatures followed by engine fires have said that their instrument clusters have shown the message "Engine Power Reduced to Lower Temps" or "Engine Over Temp, Stop Safely." Some also say that their cars sounded a chime, and a red light lit up. Ford is telling drivers who see the warnings to safely pull off the road as soon as possible, turn off the engine and get out of the vehicle.
---
2nd Gear: Fiat Is Spending Big On New Maseratis
Reuters reports that Fiat is going to spend $1.6 billion on Maserati, counting on technology from Chrysler, as well as its dealers, to help it take on Porsche and BMW. Maserati brand chief executive Harald Wester said on Monday Fiat would invest in three new Maserati models in a bid to push sales to 50,000 cars in 2015. The brand aims to sell at least 13,000 of its new four-door Quattroporte sedans in 2013. This compares with about 4,700 cars that Maserati sold in the first nine months of 2012.
In all, Wester said he's aiming for 80,000 Quattroporte sales over the seven-year life of the new model. Maserati will increase its dealerships worldwide to 425 by 2015, from 250 at the end of this year, with help from Chrysler. Later next year, Maserati will launch a smaller sedan called the Ghibli, while a new SUV, the Levante, which is likely to be made at the Fiat Mirafiori factory in Turin, will follow in the third quarter of next year. Maserati might add a third shift in Turin if there is enough demand, Wester said.
---
3rd Gear: GM's New Pickups Debut on Thursday
General Motors, which has been teasing us with little glimpses of its new pickups, plans to introduce them on Thursday. The 2014 Chevrolet Silverado and GMC Sierra will be unveiled at a press conference that will be Webcast here. The pickups are set to go on sale in the second quarter of 2013, although GM hasn't said exactly when. The announcement will start the clock for GM to wind down production of its 2013 trucks, and get rid of the quarter-million that it has on dealer lots.