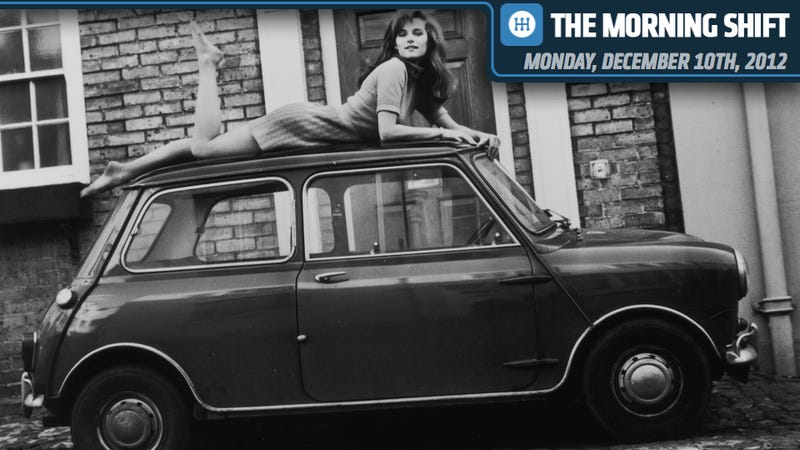 This is the Morning Shift, our one-stop daily roundup of all the auto news that's actually important — all in one place at 9:00 AM. Or, you could spend all day waiting for other sites to parcel it out to you one story at a time. Isn't your time more important?
---
1st Gear: EPA Is On Ford's Case Over Fuel Economy
USA Today reports that the Environmental Protection Agency is going to review Ford's claims that two of its hybrids get 47 mpg. The move comes after Consumer Reports and individual customers said their gas mileage for the C-Max and the Fusion hybrid was lower than Ford's estimates that they would receive 47 mpg in city driving, 47 on the highway, and logically, 47 mpg overall. In CR's testing, the Fusion hybrid got 35 mpg in the city, 41 mpg on the freeway and 39 mpg overall, based on 2,000 miles of driving. It said its C-Max got 35/38/37. Ford has used the 47 mpg claim extensively, especially in its claim that its hybrids do better than competing Toyota models.
---
2nd Gear: Bankrupt Battery Maker Goes To China
The Associated Press reports that bankrupt Massachusetts battery maker A123, which had deals with Fisker, General Motors, Chrysler and India's Tata Motors, will sell most of its assets to a Chinese company for $256.6 million. A123's government business is being sold separately to an Illinois company. A hearing seeking the necessary court approval of the sale to Wanxiang America Corp. is scheduled for tomorrow. The deal must also be approved by the Committee for Foreign Investment in the United States, a federal inter-agency committee that reviews sales of U.S. companies to foreign owners. The company has about 2,000 employees.
A123, which makes lithium ion batteries for electric cars, grid storage and commercial and military applications, was awarded a $249 million grant from the Department of Energy in August 2009 to help it build U.S. factories. About $130 million of that grant was delivered before the company fell victim to the lackluster market for electric cars. Johnson Controls had been interested in buying A123, but it said yesterday that it withdrew from the bidding because the assets were worth less than Wanxiang was willing to pay. The sale, once approved, means Fisker can resume building the Karma.
---
3rd Gear: Three Ways To Get Fit From Honda
Automotive News (sub. required) reports that Honda is planning to build three versions of the small Fit at a new plant that it has under construction in Mexico. There's going to be a Fit-based crossover from Mexico, as well as a sedan and the current hatchback, the only version sold in the U.S.
According to an AN source, Honda is considering selling all three Fits here. It already sells a sedan version, called the City, in Asia. The Mexican factory is scheduled to open in 2014, with an annual capacity of 200,000 vehicles. Honda is putting a big push behind the Fit, the smallest car in its American lineup. Honda has high hopes for the Fit because of the shift to smaller, fuel efficient vehicles. The move also helps offset the sting from the strong yen.
---
4th Gear: Right To Work Makes Lansing Labor Central
Over the next two days, labor groups are expected to descend on Lansing, Mich., ahead of the final vote by the Michigan legislature on Right to Work legislation. During the weekend, the unions set up all kinds of demonstrations, and asked their members to wear red today and tomorrow to show solidarity. (It isn't clear why they picked that color, since it stands for Republican states as well as Ohio State.) Tonight, a group of union carolers are going to stand outside the gates to Gov. Rick Snyder's house near Ann Arbor. They were encouraged to bring children and Santa hats. Tomorrow, you can expect a big rally of union members from all over the state and most likely elsewhere, when lawmakers cast their deciding votes.
There are enough Republicans to pass the measure in both Houses, so the demonstrations aren't likely to change any minds, and Snyder has said he'll sign the legislation as soon as it reaches his desk. In one email, the Michigan Federation of Teachers already is vowing to try to repeal the law in fall, 2014, and to step up efforts to elect Democrats to the state House and Senate. But for at least 2013 and 2014, it looks like Michigan will be the country's 24th Right to Work state.
---
5th Gear: I'mmadafreagin New Popemobile
What did you get for Christmas this year? If it's not a modified Mercedes-Benz ML with a bulletproof glass tank tall enough to support a giant, three-tiered hat then you're not the Pope. In case you missed id this weekend, Daimler chairman Dr. Z visited the Vatican to deliver the Pontiff's new rides which, sadly, do not appear to have HEMIs. Improvements to the Mother of God Pearl SUV include better lighting and climate controls for the Pope Tank as well as a new communication system so the Pope can tell his driver to step on it. The ML is also lower so it's easier to drive the Popemobile into the back of a plane... and maybe because his Popeness wanted his car to be hellaflush.