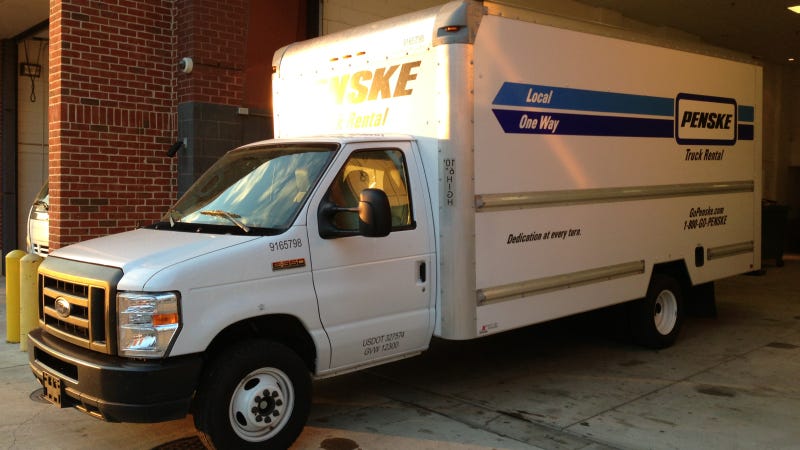 In order to relocate from Austin to Washington, D.C., my lovely fiancée and I recently had the extreme pleasure of spending two-and-a-half days driving across this great nation of ours in a Ford E-350 Super Duty moving truck with all of our furniture and a multitude of boxes in the back.
I learned a great many things on our long journey, like how there are a truly staggering number of radio stations in America called "The Beat."
I also got so good at driving the massive, 12-foot moving truck that by the end of the trip I could probably run it in autocross. Now I'd like to teach you what I learned.
At first, driving one of these trucks is not easy. It's long and wide, it has no center rear-view mirror, it's unbelievably slow, its handling can best be described as "wobbly," and it's noisy and claustrophobic inside.
Operating one successfully requires a very different type of driving than I was used to. But whether you're behind the wheel of a Corolla or a Corvette, you have to learn what a car can do and what it can't, and you adjust your driving style accordingly.
If you ever find yourself driving one of these things cross-country like me, then I have some wisdom I would like to impart. Sit back and prepare to put some knowledge in your face!
Full disclosure: I know the truck says Penske on it, but neither they nor Ford paid for any aspect of this trip. I wish they had. The whole thing got expensive by the end.
Insist on a newer truck.
Come on, do you really want to do a drive like this in some ancient beater truck with nasty old coffee-stained, fart-clinging cloth seats? No way. You gotta roll in something that's as nice as possible. If you end up with something awful, get back in there and demand the newest truck they have.
We had the good fortunate of getting a 2012 E-350 from Penske that had fewer than 30,000 miles on it. The truck felt practically brand-new, with fancy vinyl seats and — best of all, I'm telling you — an AUX input on the stereo.
This meant that we could plug in our iPods and thus didn't have to spend the entire trip trolling for bad Top 40 radio stations over and over again. If there's anything worse than taking a days-long trip in an underpowered moving truck, it's doing it with Rihanna's sing-screaming in your ear the entire time.
Pack it right, or pay someone else to do it.
The truck is hard enough to drive without having to worry about your stuff flying around the back. You have better things to worry about, so first and foremost, make sure it's secure back there. If you don't know what you're doing, get someone else to do it. It's worth the money.
Here are some helpful tips on how to pack a truck. I would also suggest packing some of your more fragile items, like computer monitors, with pillows around them in their boxes. Also, generally speaking, don't use the truck for human smuggling. Especially in Texas.