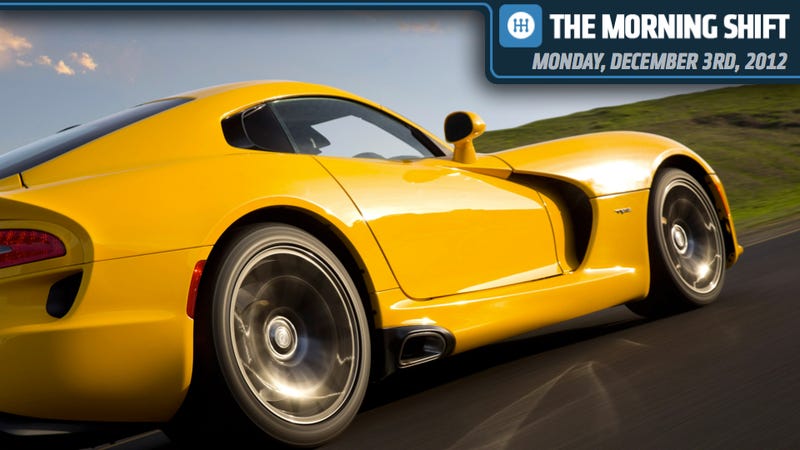 This is the Morning Shift, our one-stop daily roundup of all the auto news that's actually important — all in one place at 9:00 AM. Or, you could spend all day waiting for other sites to parcel it out to you one story at a time. Isn't your time more important?
---
1st Gear: Ford Hopes We Won't Notice Another Escape Recall That Could Lead To... Fiery Death
The Detroit News says Ford has recalled the 2013 Escape for the fourth time since it was introduced in June. And this one is pretty serious. Ford again told owners to park their cars and pick up loaners, because fluid leaks could cause engine fires and a risk of fiery death. (According to Motoramic, one owner who watched his Escape go up in flames told NHTSA, "We feel we are lucky to be alive!") This recall involves the 1.6-liter EcoBoost engine, and involves about 73,000 Escapes and 16,000 2013 Fusions, most of them sold in the U.S. Ford says it doesn't have repair procedures in place yet, so it can't estimate when owners will get their cars fixed.
The press release popped into our inboxes at 5:22 pm ET on Friday, while much of the automotive press corps was still in Los Angeles or on planes headed home from the L.A. show. Sam Gustin at Time was pretty steamed about that, tweeting, "I'm a big fan of @Ford. But this sort of Friday night news dump is transparently lame. C'mon guys." Along with that, the release had the humblebrag headline, "Ford Acts Promptly For Customer Safety." But it turns out "promptly" is up for debate. According to the News, Ford got its first word of a fresh engine fire on Sept. 7, AFTER the July recall in which it also told people to park their Escapes. There have been a total of nine fires, including two at the Louisville Assembly Plant and one before a car was delivered in Tennessee, and Ford formed a task force Nov. 12 to look into the issue.
I've been to a lot of engine plants, and at each one, the engineers take a lot of pride in showing me the testing area. Engines generally are cycled for hours in booths, sometimes days, to make sure they are durable, and the car companies keep close watch for any variability. Yes, new vehicles have problems, and recalls aren't unusual. But the fact that an important model for Ford with a brand-new engine has been recalled four times since launch, and cars are catching on fire at the factory, means there's something eyebrow raising here. Was there something missed in the testing? Does the manufacturing process play a role? The only way we'll know if Ford solved the problem if it stops happening, and so far, there's no fix.
---
2nd Gear: Chrysler's Olivier Francois Is Detroit's New It Man
The Detroit Free Press gives Chrysler's chief marketing officer Olivier Francois the admiring profile treatment, writing about the buzz-generating commercials he's created for the carmaker. Francois showed up at a music studio about 10 p.m. (or as they say in the music business, breakfast) to pitch the idea of using Eminem's "Lose Yourself" in a Chrysler ad. "It was remarkable," said Joel Martin, the owner of 54 Sound Studio in Detroit. "It was like — this cannot be a car guy. Who is this?" To be sure, Francois' work is certainly memorable, like the Clint Eastwood "Halftime in America" ad, and Detroit is short on passionate characters these days. So, expect Francois to be in every other publication you read from now until about 2014.
---
3rd Gear: Goodbye To The Chrysler Museum
The New York Times reports that car buffs will have one fewer museum to visit. Chrysler is shutting down its museum in Auburn Hills at the end of the year. The Walter P. Chrysler Museum, which opened in 1999, was the first to be built on site by a North American car company. Its board included Ralph Gilles and the museum has attracted about 35,000 people a year, and features 67 vehicles, displayed on three floors. Along with Chryslers, Dodges and Jeeps the cars represented also include long-gone brands like Hudson, Rambler, Willys-Overland, American Motors, DeSoto and Plymouth. The oldest vehicle is a 1902 Rambler Runabout Roadster. Chrysler is buying the collection, and will probably trot the cars out on special occasions.