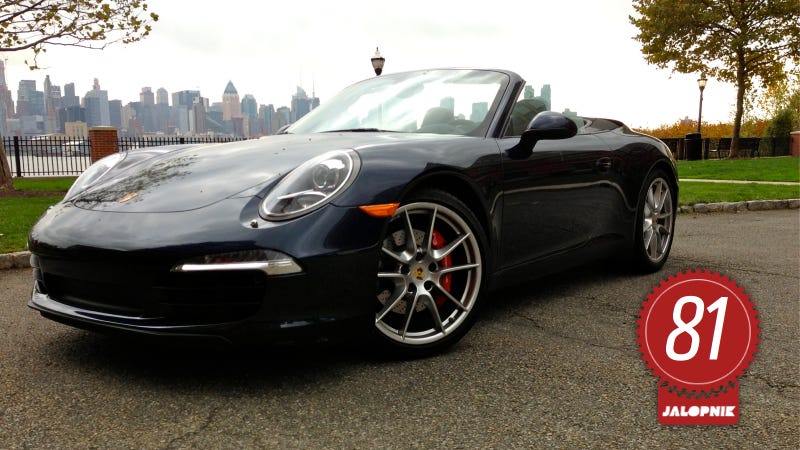 Iconic is a tired word. In the past, it was reserved as a word of reverence for ground breakers and revolutionaries that radically transformed the future. You know, the icons.
Today, nearly anything and everything, from toasters to the Toyota Tercel, is called iconic. But that isn't fair to the real innovators. Despite what marketers tell you, in the car world, there are very few cars that are actually iconic. The Porsche 911 is one car that deserves that title.
(Full Disclosure: Porsche wanted me to drive the 911 C2S Cabrio so bad that they dropped it off outside the office three days before some stupid bitch named Sandy came to visit New York.)
The 911 is pretty much evolution defined. If you park a brand new 911 next to the original from the 1960s, it's clear that these cars are closely related. But that's part of the appeal of the 911. Porsche has honed it over the years instead of constantly throwing it out and starting from scratch. You have to admire that.
For the 991 generation, Porsche made one huge change: They binned hydraulic steering and went to an electric setup. The steering is what made the 911 oh so magical in the past. Does the change impact the car negatively? I don't think so. At all.
Let's get this out of the way: The 911 is a handsome car. It's muscular, it's wide, it's chiseled. I like it a lot. The new soft top on the Cabriolet also maintains the 911's classic roofline, which gets rid of some of the ungainly look the Cabrios previously had. Consider me a fan.
But here's the rub: The 911 just doesn't look all that special. For a car that has a starting price of $100,000, it doesn't make you look twice and go "woooooowww." That's the problem with having the same styling for nearly 50 years, people get used to it. A car like the Audi R8 costs the same and just has that "holy shit look at that" factor that the 911 doesn't have. I want that in a supercar.