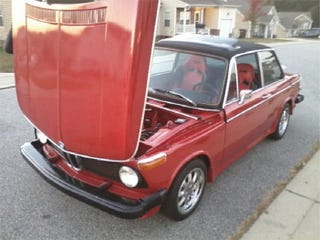 Unlike Mercedes Benz and NSU, BMW never dabbled in rotary engines. That oversight is rectified by today's Nice Price or Crack Pipe 2002, but will its price have you saying a little dab'll do you?
Its color may have been polarizing, and its potential for catastrophic mechanical failure may have caused many a sphincter to clench, but spectacular looks and an apparently engaging price overcame those obstacles, leading yesterday's 1988 Lotus Esprit to a safe 66% Nice Price win. Y'all are a sucker for a pretty face, you know that, right?
With their 1962 arrival, BMW's Neue Klasse small sedans and coupes introduced a number of styling tropes which served for years as iconic representations of the brand. The D-pillar's Hoffmeister kink, forward-leaning shark's nose face, and of course the double kidney grille, alone or combined let you immediately know the car's origin.
Today's 1968 BMW 2002 maintains all those elements, but its BMW-ness no longer extends to its major mechanicals. There, the car has - as was once popularized in song by the Vapors - been turning Japanese. I really think so.
In place of the original 1,990-cc M05 which put out a factory 100-bhp, this 2002 now sports a Mazda 1,146-cc 12A rotary which in RX-7 guise pumped out. . . 100-bhp. Well, at least the Mazda hummer put out less torque (100 lb-ft vs. 157 for the M05) and maintains a reputation for drinking like Nick Cage in Leaving Las Vegas.
The Wankel is backed up by an equally Mazdarrific 5-speed stick and is claimed to have but 100 miles on it since a rebuild. Ahh, I love the smell of fresh apex seals in the morning. . .
Unfortunately, the current owner has not been able to properly jet the Weber 44 IDA down draught, and hence the car apparently doesn't run all that well at the moment. The IDAs are pretty flexible and easy to tune carbs, so that might mean some other monkey business is going on - like that pair of needle nose Vise-Grips® clamping off a hose in the engine shot. What's that all about?
You could ask the same thing regarding the car's aesthetic appearance as well. The seller claims this to be a '68, and that he added the ungainly aluminum bumpers because. . . well, I can't think of a reason to do so. Also, I'm pretty sure that the 2002 had round tail lights up until about '72 or '73, and this one has the rectangular units. Rounding out the exterior there's, some rocker extensions, fugly chrome wheels, and a "New Black vinyl rag top with sun roof" which is, um well, different.
Inside, the stock low-backs have given way to a set of red and black high wing sport seats, while the arm rests and steering wheel continue the color theme. The doors are also shy a pair of speakers. That or the car suffers from mice something fierce.
I hope I haven't sold this Mazda-powered 2002 short, it is after all an interesting, and seemingly solid car. The changes made to it are not my cup of tea, but perhaps you will think differently.
Should you think that you, or anyone else, should part with their hard earned cash for this Bavarian-Mazda-Wankel then $4,800 will need to be sourced. That or OBO, but as we don't deal in grey areas here, you now need to vote on the dollar amount. What do you think, is $4,800 a deal for this BMW with a hummer? Or, is there just too much that needs to be done to make that price a done deal?
You decide!
Greensboro Craigslist or go here if the ad disappears.
H/T to stevewilson005 for the hookup!
Help me out with NPOCP. Click here to send a me a fixed-price tip, and remember to include your commenter handle