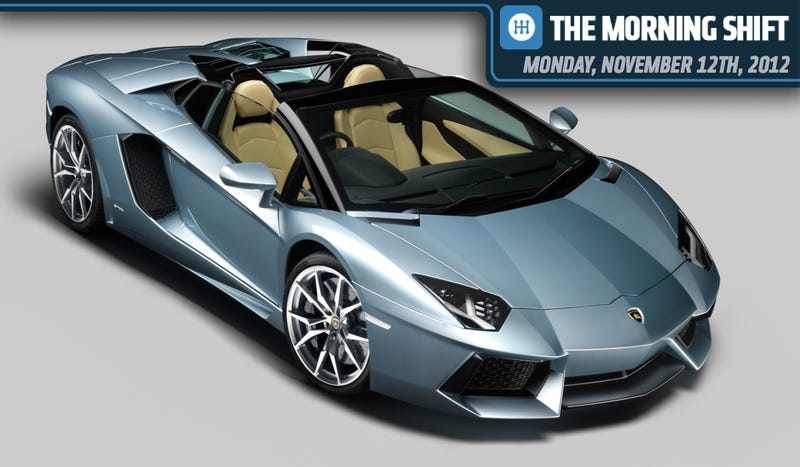 This is the Morning Shift, our one-stop daily roundup of all the auto news that's actually important — all in one place at 9:00 AM. Or, you could spend all day waiting for other sites to parcel it out to you one story at a time. Isn't your time more important?
---
1st Gear: What Price Chrysler?
Reuters reports that Chrysler's minority owner, the union health care trust known as the VEBA, is set to file a response in Delaware court today in a suit that could determine what Chrysler is worth. Fiat wants to pay $139.7 million for 3.3 percent of Chrysler, a figure reached by using a formula set up when Fiat took control of Chrysler as it emerged from bankruptcy in 2009. But other Chrysler shareholders have objected to the price and the dispute has ended up in court.
While Fiat already has management control of Chrysler, owning the entire company would allow it to restructure debt and ensure that Chrysler generates enough cash to support Fiat's money-losing European operations, analysts told Reuters. The response that the VEBA plans to file will show the value that it puts on its stake in Chrysler. It's certainly possible that the VEBA could come in at or close to Fiat's value, which could speed the legal proceedings and allow Fiat to increase its Chrysler stake.
---
2nd Gear: Ferdinand Piech Is Going Nowhere
Reuters also reports that Volkswagen Chairman Ferdinand Piech, who seems like he's been in his job forever, is planning to stay put. Piech told Bild am Sonntag that he wants to be around while CEO Martin Winterkorn develops the next Golf, which usually takes five to seven years. VW just began selling the newest version of Golf in Germany on Saturday. So, if Piech, who is 75, stays through the next Golf, it would take him well beyond the end of his current agreement, which runs through 2016. That's also when Winterkorn's contract runs out. Over the past 18 years, Piech has served nine years as CEO and nine as chairman. He's already the longest-serving top executive in Germany and if he gets what he wants, he could be chairing VW into his 80s. Since Piech's mother was a member of the Porsche family, it's kind of hard for anyone there to tell him to hit the road.
---
3rd Gear: BMW X4 Is Headed for Detroit
Autoweek reports the BMW X4 will make its debut in January at the North American International Auto Show. The X4 is set to go on sale in the United States in 2014, and it will be built in Spartanburg, S.C. According to Autoweek, the Detroit car will be a near-production version "that will rival the appearance, dimensions and packaging of the Porsche Macan" which is also due in 2014. Autoweek adds that design proposals made official by BMW in 2010 "suggest the X4 will differ visually from the X3 in much the same way the larger X6 is distinguished from the X5, with a bullish front end, plunging coupe-style roof line, four conventional front-hinged doors and a heavily angled one-piece tailgate." There's also supposed to be an M version of the X4 and a diesel, although probably not for the United States.
---
4th Gear: China Protests Are Scaring Japanese Investors Away
Bloomberg says the anti-Japanese protests are scaring a bunch of Japanese companies away from further investments in China. Koito Manufacturing, a Toyota subsidiary, stopped construction on a new plant and thinks it may no longer need it. "Demand from automakers is unclear, so we don't know how long we will have to freeze the project," Shinji Karasawa, a spokesman for the Tokyo-based headlight maker, told Bloomberg. Sumitomo Electrics and Toyo Tire and Rubber are rethinking their Chinese investments.
Instead, manufacturers are focusing on Thailand, Burma, Vietnam, Indonesia and Cambodia. "Our board members had been vaguely wondering if we should move future production out of China; then the protests prodded us to decide to accelerate planning toward moving out," said Masayoshi Matsumoto, president of Sumitomo Electric, the world's second-biggest maker of wiring harnesses. Foreign direct investment fell in October for the tenth time in 11 months, and Japan is China's third biggest investor.
---