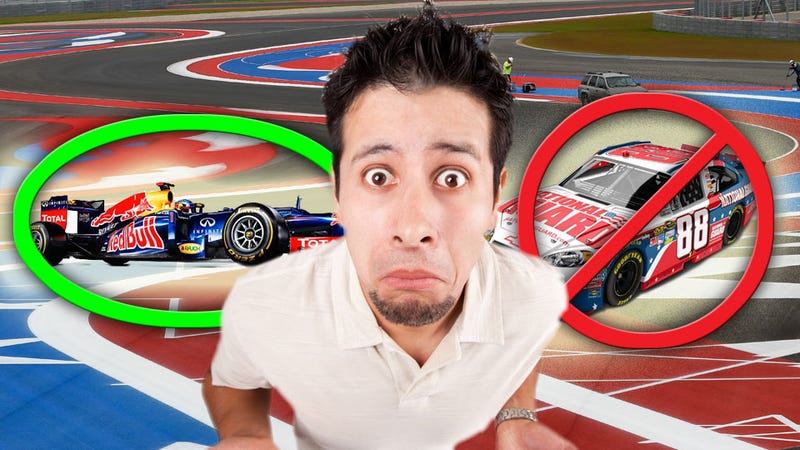 Formula One, the world's premiere motorsport, is returning to the United States this weekend after a five year absence. Watching F1 is different than watching any other form of motorsport. It's faster. It's technical-er. And to the outsider, it's boring-er.
It doesn't have to be this way. F1 can be absolutely incredible to watch if you know what you're doing.
Here's are a few simple tips on how to enjoy the first United States Grand Prix at the Circuit of the Americas in Austin, Texas this Sunday if you're like the potentially large number of American viewers who will suddenly want to pretend that they're F1 experts.
---
Prologue: What is Formula 1?
Many of you may be tuning in to an F1 race for the first time with this USGP and have no idea what F1 is. In short, it started in 1950 and is the premier form of motorsports in the world. The F1 circus is comprised of 12 teams, each with two cars. The teams build their own cars and get engines from Ferrari, Mercedes-Benz, Renault, or Cosworth. Budgets for the teams can reach and exceed $500 million per year as they work to beat everyone else.
Teams travel the globe from March until November on a 20-race odyssey that includes locales like Italy, Germany, Bahrain, Japan, and Monaco. All along, the teams are vying for two major championships: One for the driver and one for the team. The champions not only earn bragging rights, they get millions of dollars and a place in the history books.
---
1. Don't expect NASCAR
Worldwide, F1 is the most popular form of motorsports. In America, it isn't close. That's NASCAR's domain.
If you come into F1 with the mindset that you're going to be watching cars bumping and banging into each other for three hours, you got another thing coming. Crashes do happen, and yes, there is wheel-to-wheel action, but there won't be crashes every eight laps or 'green, white, checkered' finishes.
What it is about is precision and strategy. Just because there are no passes on the track doesn't mean there isn't a ton of action going on. It's a different sort of action. Just watching the leader set incredible lap times that can't be matched by anyone else is amazing in itself.
---
2. Pick your driver
If this is your first race, chances are you have no idea who these drivers are, and they have names that scare and possibly confuse you. A great way to have a vested interest in the race is to pick a driver. It gives you someone to root for and follow the entire time.
The best part is that battles occur throughout the field, so if you pick a mid-pack driver, you aren't necessarily going to be bored out of your gourd for 2 hours. I typically try and follow three drivers in a race: Fernando Alonso, Kimi Raikkonen, and Kamui Kobayashi.
---
3. Learn the intricacies
F1 has a few little idiosyncrasies that every viewer needs to learn. First, F1 has a little device called KERS, or the "Kinetic Energy Recovery System." The system stores energy lost during braking in either batteries or a mechanical flywheel (No teams currently use the flywheel due to packaging issues). The driver can then activate the system to have an 80 horsepower boost for nearly seven seconds per lap.
Another system, DRS, or "Drag Reduction System," was implemented to aid passing. If a driver is within one second of the car in front of him on certain parts of the track, a flap in the wing can be opened. This reduces wind resistance and increases top speed, which makes passing easier.
Finally, F1 cars don't refuel, so pit stops are ludicrously fast. Like four tires changed in 2.3 seconds fast.