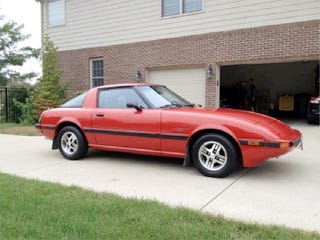 Keith Richards, Tom Hanks' Castaway character, Barack Obama, these are all survivors. You can add to that list today's Nice Price or Crack Pipe Mazda RX7, but will its price survive your vote?
You know, considering all the Scooby snacks he ate, you'd think that one thing the Mystery Machine would absolutely need is a hefty shovel for scooping up all the Scooby doos. As he's a Great Dane, one of those lifting belts might be a good idea too. Zoinks indeed.
I had a good idea yesterday - a hip-hop version of the Mystery Incorporated team - and thought that our contender - a custom 1996 Chevy Van rocking more AV equipment than a private high school, and massive wheels - would have been their perfect ride. Unfortunately for its seller, 80% of you felt the only mystery that needed solving was how he would move it for anything near his twelve-five price.