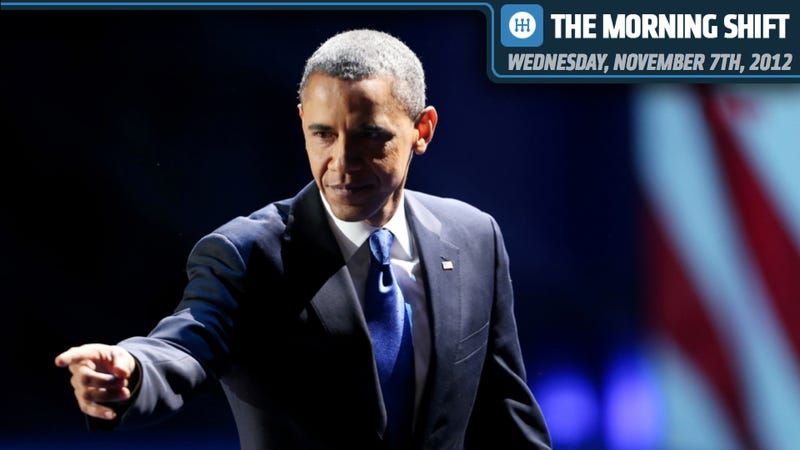 This is the Morning Shift, our one-stop daily roundup of all the auto news that's actually important — all in one place at 9:00 AM. Or, you could spend all day waiting for other sites to parcel it out to you one story at a time. Isn't your time more important?
---
1st Gear: Obama And A Bunch Of Senators Win Because Of The Bailout
If the projections are correct, Barack Obama is getting a second term, boosted by votes in Midwest states helped by the auto bailout. The rescue plan also looks like it elected and re-elected a bunch of other people last night. First and foremost, Michigan's Democratic U.S. Sen. Debbie Stabenow won re-election to a seat Republicans once thought they'd be able to take. Stabenow famously got emotional during Senate debate over the bailout in 2008, and while she wasn't able to convince her fellow senators to approve it, she's always been a big bailout booster. Meanwhile, Democrats appear to have grabbed Senate seats in Wisconsin and Indiana, too, much to the shock of Republicans who thought that because they had captured the governor's chairs, they'd take the national offices, too.
Democrat Sherrod Brown won a tough re-election fight in Ohio in one of the nation's most expensive races. And, while you can't draw a direct line from the bailout to Elizabeth Warren's Senate victory in Massachusetts, she was very much involved in the Obama Administration's financial overhaul plan. The vote proves something: when the UAW wants to get out the vote, it can (and it doesn't hurt that union members at the Detroit auto companies had the day off, either.)