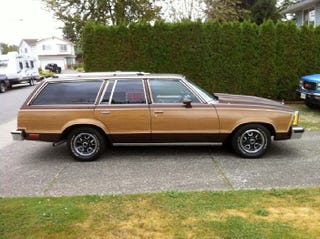 While à la carte means according to the menu, today's Nice Price or Crack Pipe Canadian Malibu is serving up its pre fixe menu à la crate, as in with a crate motor.
And we're back! It may have been a hell of a week, but we're not going to let a little thing like the storm of the freaking century get in NPOCP's way, are we? OH HELLZ NO. We're just going to pick up where we left off and pretend like nothing ever happened, even if the Gawker servers now all smell like seagull belches and have been commandeered by switchblade wielding hermit crabs.
Where we did leave off, pre-catastrophe, was with a weird and wild 1970 GMC Suburban custom show truck that was itself a cloudburst of axles and tires and custom paint and pinstripes. That show truck's seller may have hoped for a flood of potential buyers coming his way, but with a 70% Crack Pipe loss, you all just rained on his parade.