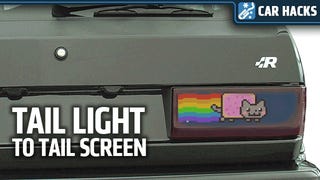 Taillights are a great part of a car to customize and play with. They're highly visible, distinctive, and everyone has to have them, anyway. I came up with an idea on how to make some extremely dynamic light units for not much more than the cost of some tacky, over-chromed aftermarket ones.
And, even better, it could involve you meeting strangers on Craigslist, which seems to have an inexhaustible supply of cheap, obsolete netbooks. So read on to see how you can make awesome animated taillights that can crash all by themselves!
I had this admittedly goofy idea earlier this week, when there was all the hype around the release of some new shrunken tablet computer. That started me thinking about small computers and their LCD displays, and, just by chance, I had also been thinking about taillights. See where I'm going?