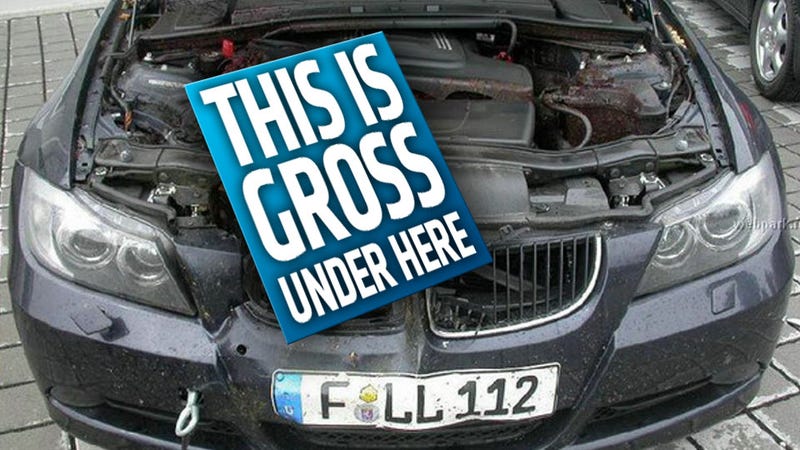 Our tips line often gets filled with images that make healthy people want to lavishly vomit, but it's usually the result of a garishly customized Bentley/Hyundai sphinx-thing or something like that. This time, though, the disgust was from real, genuine gore. So, yeah, thanks for that, Andrew Scott of Australia. Thanks a lot.
Rather than let this poor kangaroo die for nothing, however, we thought we'd make a timely Halloween story.
(Warning: disgusting mulched animal images below. Eat that last mouthful of shrimp cocktail before viewing.)
The images sent were of what was described as a BMW Z4 that seemed to have an entire kangaroo crammed into the engine bay. Via the grille, at what must have been a high speed. The email stated it happened near Mitchell, Australia, while the car was travelling at about 140 mph. The message also suggested the marsupial was 154 lbs and made a case for having 'roo bars installed, a reasonable take-away from the whole event.
But things don't quite add up. The car's not a Z4, it's looks more like a 3-series from around 2006. The license plate appears to be German, not Australian. A bit of research shows the story and images have been around since about 2007 at least, and the animal in question has been attributed to be a deer, or an elk, or, more plausibly, a fox.