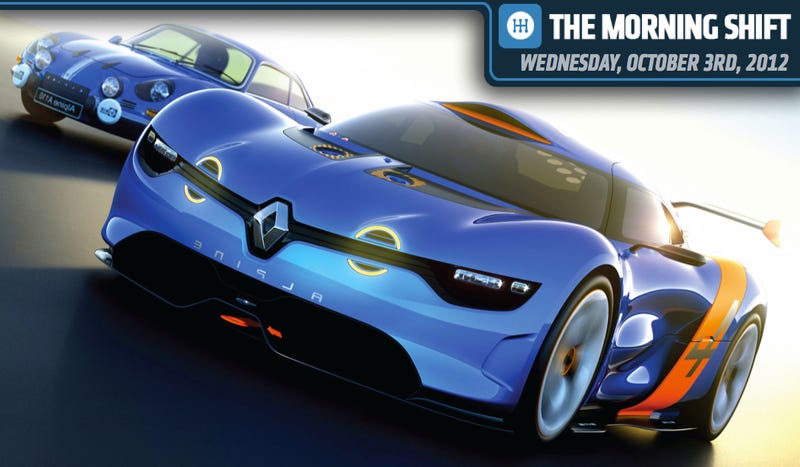 This is the Morning Shift, our one-stop daily roundup of all the auto news that's actually important — all in one place at 9:00 AM. Or, you could spend all day waiting for other sites to parcel it out to you one story at a time. Isn't your time more important?
---
1st Gear: Japanese, Europeans Own September Sales
It's always fascinating to look at the trends that come out of monthly auto sales, and in September, the picture from the charts compiled by Autodata was clear: Japanese and European companies had a field day. Toyota looks like it's going to take back the No. 2 spot in the American market any second now. It wound up just 2,544 vehicles behind Ford. Meanwhile, the Europeans took 10 percent of the American market last month, in part due to Volkswagen's beigekrieg and the battle between Mercedes, BMW and Audi. Looking just at the Detroit companies, GM took only 17.7 percent of the market last month, two market share points lower than in September a year ago. Ford's market share has slipped to 14.7 percent, from 16.6 percent a year ago. Chrysler was down, too, taking 11.6 percent, versus 11.8 percent last September.
The Japanese comeback from the earthquake, tsunami and floods in Thailand, plus Europe's push, plus higher shares from the Koreans, shows that the American market is once again a competitive free for all. Any advantage that Detroit got from its post bailout bounce and the problems faced by the Asians was only temporary. American consumers like having choices and they're apportioning their business among many companies, not just the Motor City trio. The only answer for all the companies is competitive product, and tons of that is coming for 2013.
---
2nd Gear: Can Skipping Helmets Actually Be Okay For Bikers?
The Detroit News reports on some unexpected claims about Michigan's recent helmet law change. A bikers group called ABATE (American Bikers Aiming Toward Education) claims that deaths in Michigan have actually fallen since the state's law was amended in April to allow adults to choose whether to wear helmets, provided they've taken an education class. It says fatalities over the past year, from before the law was amended, and since then, fell from 89 to 85, down 4.7 percent.
AAA Michigan, which has always been a proponent of requiring helmets, calls the numbers "very preliminary" and says it's way too early to argue that motorcycles are safer now. And, AAA says it thinks injuries actually went up. AAA had been predicting an increase of 30 fatalities a year and 127 serious injuries, according to the News.
---
3rd Gear: I'll Have Titanium, Says Ford Fusion
Ford is taking a page out of Lincoln's book and will offer a Titanium version of the new Fusion. Buyers will be able to opt for either an EcoBoost engine with all-wheel drive, or a hybrid engine with front-wheel drive for the same price. The 2013 hybrid model will start this fall with middle grade trim, but next year, there will be the new Titanium version. That model, which comes in early 2013, will start at $32,995. The Fusion Titanium will have standard fog lamps, chrome door handle accents, rear spoiler, and 18 inch alloy wheels. Inside, the Titanium edition gets power seats, with 10 different directions available for the driver. The interior is also trimmed in leather. Ford did the "pick one for the same price" idea with the Lincoln MKZ.
---
4th Gear: Alpine May Finally Be Coming Back
Inside Line reports Renault finally looks like it's ready to revive the Alpine (pronounced Al-PEEN for those of you who have been calling it something tree-like all these years). the Renault-Nissan alliance is in close talks with England's Caterham Cars over production of a new sports car to revive the Alpine name, Edmunds says. The new car is expected to be a production version of the exotic Renault-Alpine A110-50 concept that the company displayed this summer. It is set to come in two versions: one version will be an Alpine, marketed through selected Renault-Nissan dealers while Caterham, the sports car specialist, will sell its own version under its own banner. It isn't well-known in the U.S. but the Alpine has always had a cult following in Europe. Journalists have been dogging Carlos Ghosn for years about plans to revive the Alpine. Going it alone would probably be too expensive for Renault, but a British partner will make the project feasible.
---