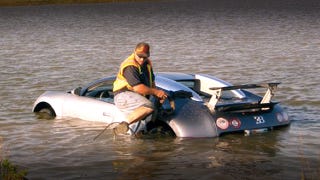 In 2009, a Bugatti Veyron was crashed into a Texas lagoon at the hands of Andy House, who at one point said that a low flying pelican had distracted him and sent him off course. What he didn't know was that the whole thing was caught on film, and the pelican is suspiciously absent.
His insurance company decided that he just wanted a $2 million check and sued for fraud, but now the trial has been mysteriously postponed. Here's everything we know about the case until today.
It all started with one picture and a report that a Veyron had crashed into a Texas lagoon. The reason? The driver was distracted by a low flying pelican and sort of ran off the road into a lagoon.