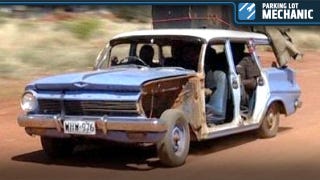 Many people would look at a rusted out '62 Holden EJ wagon missing a bunch of parts and decide it would probably take a major restoration project to get the thing on the road again. Not the Bush Mechanics. Crappy beater or no, it's go time.
This Aboriginal rock band has a magic mechanic (at least that's what I got from watching one of their videos) who conveniently appears when they break their nearly dead station wagon on the Central Australian Outback's horrible roads. He always has a way they can repair their car with sticks and stones so that they can make it to their next gig.
Hipster bands driving janky Econolines up and down the Jersey Turkpike don't hold a candle to this level of dedication.