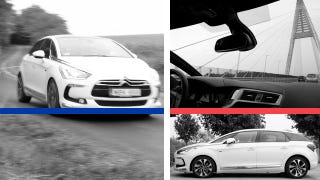 How would you impress a man used to the endless vistas of Texas and, er, Virginia, if he were to show up in Hungary in desperate need of a drive? A loopy French executive hatchback on greater Budapest's best driving road may not be the worst place to start.
My first and so far only visit to Texas occured in the hot, hot summer of 1998 aboard an air-conditioned-to-Antarctica Greyhound bus, that gem of low-cost American travel, $59 from DC to Dallas, at the tender but curious age of 17, armed with some t-shirts, and a family size bag of cheese-flavored popcorn for an edible pillow. Strange days were spent in Texas; some featured wading ankle-deep in dead crickets, some eating the best fried chicken in the known universe, some watching the balletic rocket jumps of the world's best Quake players, then, 14 years later, Matt Hardigree came to Budapest and we went for a drive.
As Jalopnik's recently semi-retired European correspondent, I'd love to take credit for supplying Matt with the most weirdly European car currently on the market but said credit must go to our very own prolific commenter MoRphine-2, driver of an MR2 and procurer of French weirdness, who got us a Citroën DS5, a space lounge with concave taillights and jet fighter instruments dreaming of a Renault Avantime.