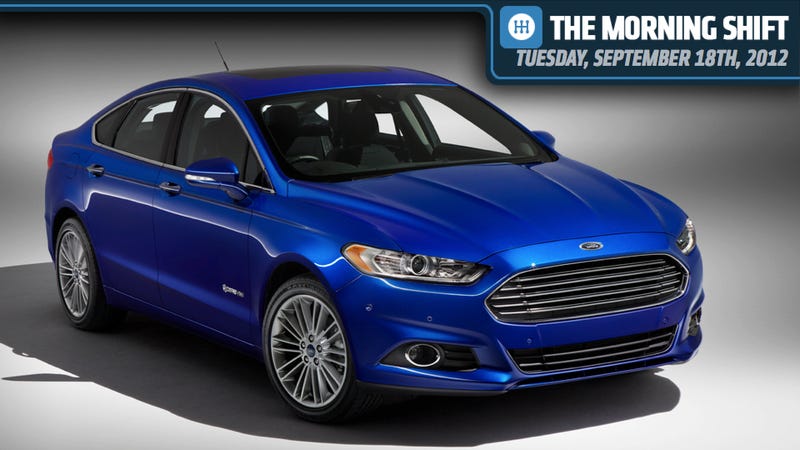 This is the Morning Shift, our one-stop daily roundup of all the auto news that's actually important — all in one place at 9:00 AM. Or, you could spend all day waiting for other sites to parcel it out to you one story at a time. Isn't your time more important?
---
1st Gear: Your Best Chance Of Getting A Raise Is Not In Detroit
The Atlantic Cities took a look at where people have made out best since the recession began, in terms of wages and salaries (it measured both types of earnings). You won't be surprised to learn that the greater Detroit area came in dead last among major cities. Between 2006 and 2011, the average wage increase was $2,100, for that entire period. The best? Washington, D.C., where people earned $10,460 more, followed by San Jose, San Francisco, Seattle and Los Angeles. You have to skip down to 13th place to find a traditional manufacturing city: Pittsburgh, where wages and salaries rose $6.910 over that period. Pittsburgh has diversified its economy away from a reliance on the steel industry, and toward other types of manufacturing as well as higher education.
The study, by the Martin Prosperity Institute, sees some reasons why people in certain cities get bigger raises. Most important, talent and skills matter. Raises relate to both the percentage of adults who are college grads and even more so with the percentage of the workforce in science and technology, the professions and arts, and media and entertainment. Conversely, wages rise least in regions dominated by working class jobs. It has nothing to do with hours worked. You also see wage gains where there are high-tech industries, but this doesn't correlate to innovation like patents. Diversity also factors in: raises seem to be bigger for areas where more of the population is foreign born.
---
2nd Gear: Ford Puts On A Big Push For Fusion
The Wall Street Journal (sub. required) reports Ford is going to put on a big push today to kick off sales of the new Fusion, which is facing a barrage of competition in the mid-sized car market. If you're near Times Square around lunch time, you can see Ryan Seacrest and Alan Mulally give away a Fusion. There are events in Miami, San Francisco, Los Angeles and Dearborn. There is a lot at stake for Ford, and for all the car companies that have new mid-sized cars. It's a market that's been dominated for years by Toyota and Honda, and where Ford was once the top dog.
The numbers tell how far Ford has to go, according to the Journal. This year, Toyota has sold more than 280,000 of the Camry, which was freshened last year. Honda, which is about to introduce the new Accord, has sold just over 218,000 of the outgoing version. Meanwhile, Fusion sales for the year total a little over 181,000. This fall also brings new variations of the Nissan Altima and Chevrolet Malibu. So, nothing is certain for the Fusion, and it helps explain why it's getting so much attention today.
---
3rd Gear: Can This Toyota Take On The Fiat 500?
Inside Line brings word of the Toyota Yaris Trend, which Toyota plans to unveil at next week's Paris Motor Show. Toyota is targeting the Fiat 500 with the Trend, which it says will appeal to "younger, design conscious consumers." That's a tall order, given that the Fiat 500 has a long heritage and has been on the market for several years, while the Yaris is mainly known as an entry level Toyota, at least here in the U.S. The Trend will go on sale in Britain next summer, where it will start at $22,400. Trend has blacked out B- and C-pillars, chrome door sills, two-tone 16-inch alloy wheels, a roof spoiler and LED exterior lights. The cabin features a black-and-white theme with softer fabrics. Yaris is built in France as well as Japan, but Toyota recently said it is planning to ship European made Yarises (Yari?) to the U.S., so it will be interesting to see if we get this version.
---
4th Gear: Canadians Extend GM And Chrysler Contracts
The Canadian Auto Workers reached a deal with Ford yesterday afternoon, hours before the midnight deadline, and immediately turned around and tried to wrest it from GM and Chrysler. Contracts there are extended day to day while talks continue. If the union believes the companies are procrastinating, the CAW said last night it will give a 24-hour notice of its intent to strike. "We owe it to a lot of people to try to get a collective (bargaining) agreement," said CAW president Ken Lewenza. He said both companies said the tentative Ford deal appeared "pretty expensive." But he said, "if it's good enough for Ford, it's good enough for General Motors and Chrysler."
In another era, this is the kind of contract that workers would vote down so fast it would knock a Molson's off the counter. For instance, newly hired workers will start at 60 percent of the wages of veteran workers, and will have to stay on the job 10 years before they make the same pay as veteran workers. In the past, that progression was as little as 18 months. There are no wage increases for the life of the agreement. And while the CAW won a promise from Ford that it will add 600 jobs, there are 1,200 laid off Ford workers in Canada, so something still has to be found for the rest of them. But Lewenza said it was "a damned good deal in these economic times." He said to the other companies, "Let's dance. Let's get the job done."
---