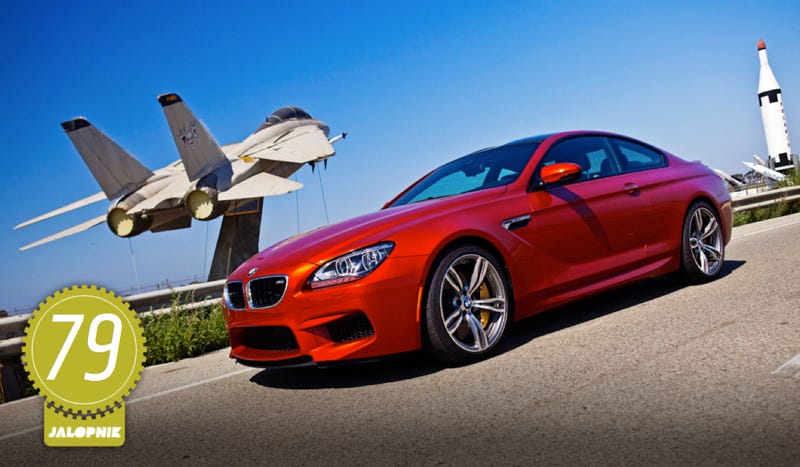 My gripe with BMW has never been about performance. Nor has it been about quality. I have just never connected with the styling, finding their appearance dull and uninspiring. And I'm not a fan of bland. I do not own a beige pair of anything. But there is one BMW that has remained an exception to my grievance. The BMW M6.
(Full Disclosure: BMW wanted me to drive the new M6 so bad they flew me out to Mazda Raceway Laguna Seca, and put me up in a swanky hotel in downtown Monterey. For dinner they took us to a glass room that looked like something out of Jurassic Park. There, we spent the whole evening deliberating the various intrinsically subtle American dialects. Who knew New York had so many!)
Back in 1983, BMW took the M88/3 modified M1 engine and dropped it onto the E24 6-Series chassis, creating the M635CSI, or M6 for short. Fewer than 2,000 E24 M6s were sold in North America between 1983 and 1989, making them as rare as they are beautiful.
The 2013 BMW M6 Coupe is just as striking as the E24 M6. The original M6 earned the nickname "The Shark," due to its toothy front fascia, and the Jaws-like appeal can still be found in today's F12 M6. To me, the 6-Series just oozes sex appeal — far more so than any other BMW — and with the M6, it's like adding stockings and high-heels to that little red dress. It's just better in every way.
The problem is that this segment has become incredibly cutthroat, with options outside the typical GT sports luxury-type segment. Of course, you have Mercedes with their SL63 AMG and Jaaaaaag with the XKR and XKR-S. But cars like the Audi R8 Spyder come into the fold along with the Nissan GT-R and Aston Martin DBS Volante. Simply put, when you step beyond $100,000 the options of insane sports cars become bountiful. And so, standing out in this high-end, high-priced world is tougher than enduring a picnic with Justin Bieber.
The E24 M6 (even despite its stupidly large bumpers) has always stood out to me. And the latest rendition of this notorious machine remains as brilliant now as it was in its original form.

In general, I find BMW's styling safe and expected. A lack of imagination seems to be present. But with the M6, the designers appear to have been granted a longer leash. The lines are sleeker and more aerodynamic than the previous model. It presents itself in a more romantic fashion, yet still maintains the aggressive nature of a BMW. It blends elegance and performance in a way other BMW models don't. Quiet details like the downforce-producing lips on the front chin, and its slick back roofline, all add to a more pleasing facade.
Earlier in the day I had been driving the M5, and not one person on the street batted and eyelid when I roared past. But to the M6 — with its contoured carbon fiber roof, M-specific flared fenders, fender vents and enlarged front intakes and a tweaked version of BMW's signature kidney grille — the reaction was very different. A group of middle-aged blokes, drinking their mid morning Dew, could barely remove their jaws from the floor as I rolled on by. And that is exactly the reaction you need if you are going to compete with the
heavyweights in the $100k and up division.
With the stunningly modernistic looking new I-Series on the way, perhaps we are ready to see this bolder approach in design trickle down to some of BMW's other models too, over the next few years. We can but hope.
INTERIOR (8/10)
With clean sophistication meeting sporty aggression, the interior feels purposeful and blends both luxury and performance in a typically M fashion. The new M6 wheel is a nice step up and far more appealing than the latest M5 wheel. It has brushed aluminum edging leading down to a V on the vertical spoke. A detail as simple as this makes the whole cabin feel more expensive and in line with what you'd expect when paying the premium for an M model.
Seat bolstering is secure and tight, and the desired driving position is easily discovered. Soft, supple leather covered the doors and console, and carbon fiber trimming fuses it all together — reminding you that despite the cabin's luxurious feel, this ambidextrous car is built with performance and speed as its main party piece.
Of course, as with all M's, the most exciting part of the cabin is the inconspicuous little M1 and M2 buttons located on the steering wheel. But more on those little gems in a minute…
ACCELERATION (8/10)
The M6 shares a drivetrain — the 4.4-liter twin-turbo V8, producing 560-horsepower and 500-lb ft of torque — with the M5. If you have read my review of the M5, you will know that I was almost paralytically mesmerized by the insane power deriving from this stunning engine. Well, the M6 is about 100 pounds lighter than the M5 and about a tenth of second faster to 0-60, at 4.1 seconds.