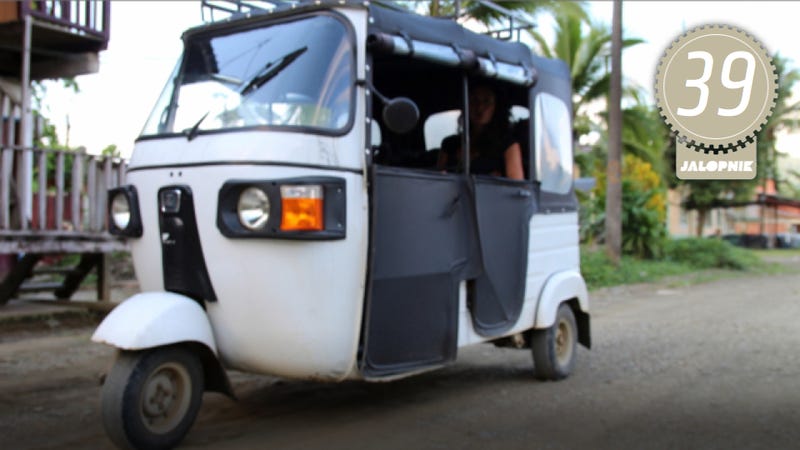 In this era of rising gas prices and tightening emissions standards, owning a car can be tough. On the other hand, turning in your keys to become a full on motorcycle rider is tricky when you have gym bags and children and other crap to cart around. Plus, they're messy when it's rainy or cold outside.
But some places in the world allow you to have it all: car roominess combined with motorcycle fuel economy. I'm talking about the Tuk Tuk (or auto rickshaw if you want to be all proper), India's little gem that can schlep everything from groceries and farm goods to entire, nine-person families in more style and comfort than simply walking or using a wheelbarrow could ever provide.
(Full disclosure: I wanted to drive a Tuk Tuk so bad, I pestered a moto-taxi driver in Bahía Solano, on Colombia's Pacific Coast, to let me borrow his for a little while. He was a really good sport, and waited patiently at the airport bar while I sped around in his 2012 Bajaj RE GDI, narrowly avoiding colliding with several farm animals on the road into town.)
Unfortunately, you'd have to move to a country where they sell these to get your hands on one. For whatever reason, you don't see them too much in the States — probably because even on local highways, their modest 40-50 mph top speed would hold up the flow of traffic. But in areas where long, straight stretches of tarmac are rare, Tuk Tuks go fast enough to get you and a lot of people/stuff where you're going. Also, safety. People all over South Asian — and more recently, Latin America — have been relying upon these three-wheeled workhorses for decades.
Nicholas, the guy who let me borrow his moto taxi for a test drive, bought it brand new six months ago. But it's still basically the same Bajaj (a knockoff of an Italian model) that has thronged South Asian roads since Bajaj started manufacturing them in 1960. His is the gasoline-powered model, but they come in different configurations, including diesel and natural gas (I wouldn't be surprised if you could get one to run on urine if you were in a real pinch). The seats are nice and it ran pretty well — until the water that was in the gas he'd bought got into the carburetor.
But that's what happens when you live in a place where the only connection to the outside world are 60-foot cargo ships and even smaller airplanes that land on an airfield that's closed part of the year because of the weather. Gasoline comes in by boat and costs 50 percent more than everywhere else (more than $6 per gallon) and isn't regulated by the government. (The only government I was able to find in Bahía Solano was a city councilmember who happened to be at the airport bar. But he was already about nine beers deep when he explained to me in garbled Spanish how things work in that part of the mundo.)
Regardless of whether or not supply problems plague the place you call home, this is not your father's Bajaj. No sir. The RE GDI boasts a direct petrol injection that not only gets 33 percent better fuel economy than last year (sorry, no word from the EPA on what, exactly, that is), it spews less harmful emissions into the world's increasingly car-polluted atmosphere. Oh, and the newer models sport two, count 'em, two headlights for increased visibility. A marked improvement over past years' cyclops-illuminated iterations.