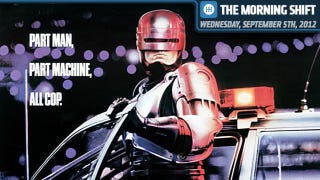 This is the Morning Shift, our one-stop daily roundup of all the auto news that's actually important — all in one place at 9:00 AM. Or, you could spend all day waiting for other sites to parcel it out to you one story at a time. Isn't your time more important?
---
1st Gear: Robocop Remake Turns To Canada Instead Of Detroit
On Location Vacations reports that streets in Hamilton, Ontario, are being dressed up to stand in for Detroit in the remake of Robocop. This is shattering news given the push to commemorate Robocop with a statue in the Motor City. But OLV (one of our absolute favorite sites) says crews are converting a space on James Street North in Hamilton into a restaurant, where a chase scene will be filmed the last week of September. The Robocop remake, which stars Samuel L. Jackson, Gary Oldman and Michael Keaton, is set to begin filming in Toronto this week. It was supposed to film some scenes in Detroit but now OLV is wondering if the Michigan shots will be scrapped. Any intel on the movie schedule?