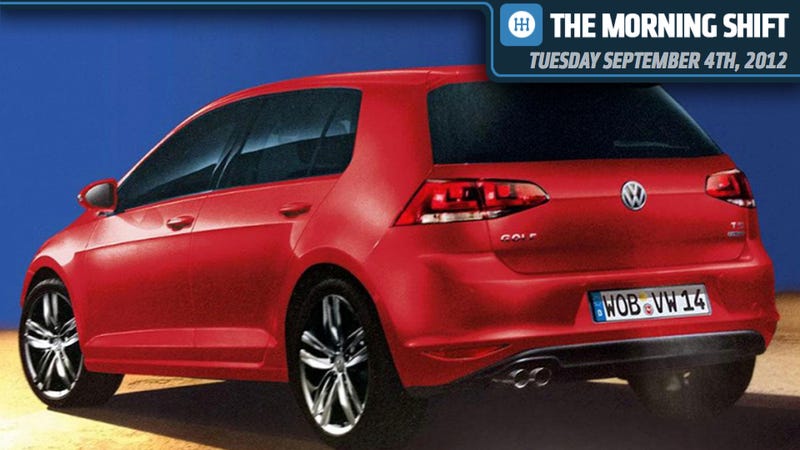 This is the Morning Shift, our one-stop daily roundup of all the auto news that's actually important — all in one place at 9:00 AM. Or, you could spend all day waiting for other sites to parcel it out to you one story at a time. Isn't your time more important?
---
1st Gear: GM, Bin Laden And Ford On The White House's Mind
CBS News reports on Vice President Joe Biden's trip to Detroit's Labor Day parade yesterday. While he was in town. Biden tried out a line that you're going to hear a lot during the fall presidential campaign. "You want to know whether we're better off?" Biden said to a cheering crowd of about 3,500 people in downtown Detroit. "I've got a little bumper sticker for you: Osama bin Laden is dead and General Motors is alive."
Meanwhile, President Obama was in Toledo, where he had breakfast with three auto workers, as shown in this White House press pool photo. He raised the possibility that all three of the Detroit car companies would have disintegrated if there hadn't been an $82 billion government bailout, including the bankruptcies at GM and Chrysler. Without it, "GM and Chrysler wouldn't exist today," Obama said, according to the Associated Press.. "The suppliers and the distributors that get their business from these companies would have died off too. Then even Ford could have gone down as well."
Given what Paul Ryan said about the car companies last week, it's clear that the auto industry is going to be front and center of politics from here on out. As Matt said yesterday, we're going to cover what the politicians are saying, explain why it matters, and call time when we spot someone playing with the truth. Those of us who follow the industry know that when the political sphere gets hold of an auto story, it can get twisted and reversed and battered like a rhetorical NASCAR crash. So, we'll be diving in when needed to help sort it out.