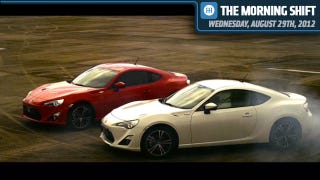 This is the Morning Shift, our one-stop daily roundup of all the auto news that's actually important — all in one place at 9:00 AM. Or, you could spend all day waiting for other sites to parcel it out to you one story at a time. Isn't your time more important?
---
1st Gear: Gifts For Honda, Tesla In New CAFE Rules
Bloomberg reports that the new fuel economy rules issued yesterday by the Obama administration have some special provisions favoring Honda and Tesla. Because of that, bigger companies might benefit, too. Here's how Bloomberg explains it. The original rule, first proposed in November 2011, gives automakers extra credit toward meeting the standards if they sell alternative-fuel vehicles. The final version treats natural gas-powered cars the same as electric vehicles.