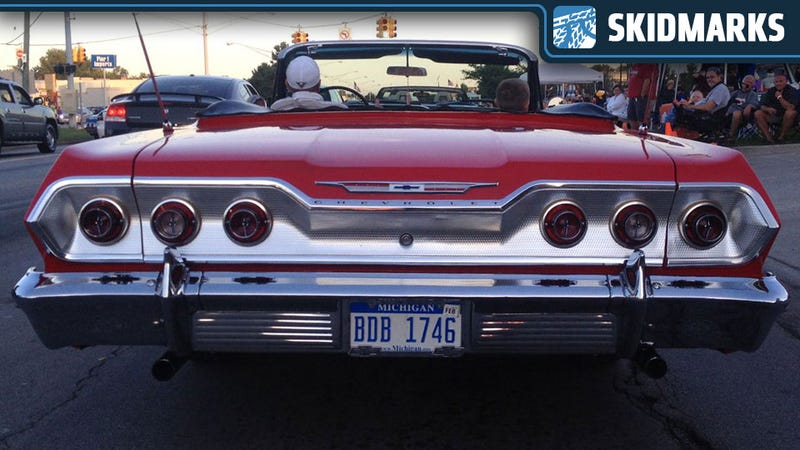 I didn't really get it at first. In fact, it took me a few hours before I really understood what was going on. Sort of like a first time at Mardi Gras — you know you're doing something fun, and everyone else is having fun, you're just not sure why you're there, or how this whole thing even got started in the first place.
This is how I experienced my first Woodward Dream Cruise.
I'm also not sure that I'm the right guy to explain this event to you. I've never owned an American car, let alone a muscle car. The whole thing is really a giant celebration of everything beautiful that's been designed and built by Detroit. While a lot of cars are simply parked, most of them cruise back and forth all day long in the right lane so the thousands of people lining the streets can soak it all in. I've never seen so many bias ply tires in my entire life! I hated the smell of lead fueled exhaust as a kid, but it smelled like roses on that Saturday.
We arrived on the scene at Woodard and 13 Mile, one of the epicenters of the event, which stretches down Woodward Avenue from Ferndale in the south to Pontiac in the north. The road loops around the Silverdome where Ice Cube and Stone Temple Pilots were playing in the parking lot.
At our intersection we had a giant Dodge factory display — this wasn't totally about the classic cars. The manufacturers play a huge role in this event and it seems like they delay the launch of cars until a month or two after Woodward so it can be a rare treat that Saturday when the new special edition cruises the strip.
This isn't just about cars either. It's about your friends and cars. Everyone is here with his or her best car friend. You know, your friend whom as a kid, could tell you every car coming down the road by the headlights or exhaust note alone. I was there with Aaron Botsis, one of my oldest friends from race track days. Last time we hung out I raced some NASCAR mini-cups and then we drove thru the night to see motor GP at Indy. He heard I was going to Woodward and simply texted me "When do we leave?" Real car friends jump at the adventure of a road trip to a car event. It's almost the best kind.