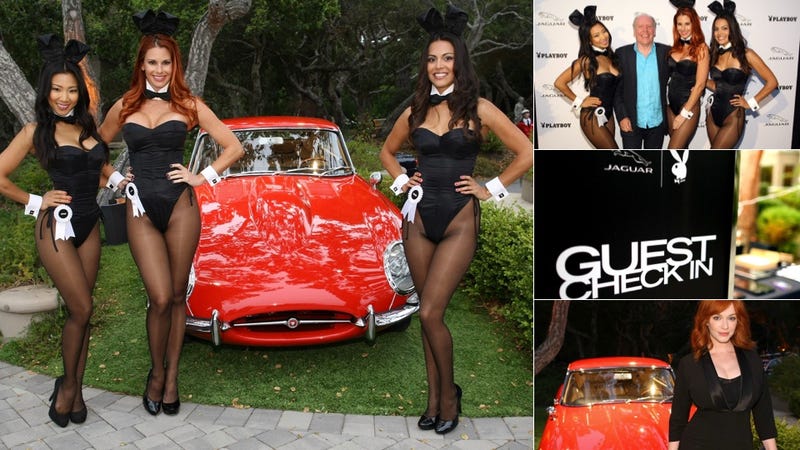 The daytime during Pebble Beach car week is all about seeing the cars. But the nights are all about exclusive parties and events for well-to-do customers, celebrities, journalists, and other members of the glitterati.
On Friday night, the hottest ticket was to the party Jaguar was holding to introduce the XJL Ultimate. Oh, it was co-hosted by Playboy. Of course, I've got a ticket.
(Full Disclosure: Jaaaaag wanted me to attend their Playboy party so badly they flew me to Pebble Beach, put me up in a gorgeous hotel on the water, wined me, dined me, sent me to all the awesome events, and chauffeured me all weekend... and they sent me to a party with real live Playboy bunnies. I lead a tough life.)
Having Barney Stinson suited-up for the occasion, my party arrives in a chauffeur driven Range Rover just before 7 PM and the first person I see is a man with the most obvious facelift ever. He would be less conspicuous if he had a scrotum on his forehead. Not a good start.
But then we enter the party to see a Playboy Playmate, Raquel Pomplun, who some of you may know as April's Playmate of the Month. She is in full bunny regalia and taking pictures with anyone and everyone.
That includes Mr. Facelift and also Ian Callum, Jaguar's charming design director.
I speak to her briefly, and she is incredibly nice. And of course, I get the de rigeur picture everyone else is clamoring for. It is by far the most 'liked' picture I've ever put on Facebook.
Once I, uhh, calm down from the picture, I survey the crowd and grab a drink with Jalopnik frenemy Dan Neil of the Wall Street Journal. The party is partly sponsored by Belvedere Vodka, so we drink Sea Breezes together (not that there's anything wrong with that!), make progressively more off color jokes, and look out at the yachts with helicopters on them that the glitterati park in the bay.
But then, something else catches our eye. Last season, Jaaaag was a key part of the plot on Mad Men, which made it a lot less surprising when Christina Hendricks, who you may know as Joan Holloway on the show, arrives to the party. Adrien Brody (and his swell goatee) follow Ms. Hendrick and a few minutes pass till Wyclef Jean arrives, who immediately gravitates to the band and stands with a friend dancing.