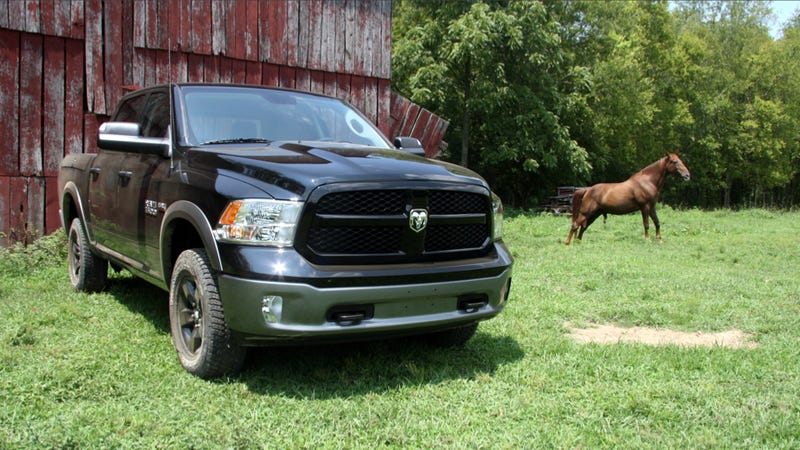 In the early '70s, just before the oil embargoes kicked off, Americans tended to drive massive land yachts. With the exception that rear wheel drive sedans have largely disappeared from the American carscape, not much has changed. Today, America drives huge pickup trucks instead.
Whether someone actually needs a pickup is immaterial, because despite a sluggish economy and high fuel prices, Americans are still buying the shit out of them. A lot of people believe that driving a big ass truck will make your manhood grow to horselike proportions.
If you're one of those people, Chrysler Corporation's 2013 Ram 1500 pickup (don't call it a "Dodge") will undoubtedly pique your interest. Its posh trim packages, handsome styling, and host of cool gadgets will also appeal to luxury-oriented customers who desire a giant truck.
(Full Disclosure: The Ram folks wanted me to try out their trucks so badly, they flew me out to Nashville, put me up in a suite at the Hermitage, and wined and dined me for a day. After being treated to a sweat-soaked and miserable looking bluegrass duet, they let me hoon the crap out of their trucks somewhere near the Natchez Trace.)
If you need a work truck, the Ram 1500 will most certainly do a fine job of it, although Ram's stripped down Tradesman pickup would probably suit the needs of most, well, tradesmen. But Ram's fancy trim packages — the Laramie Longhorn, Sport, and Lone Star models for example — combine worker bee capability with added flair that would give any job site arrival Boss Hogg-style flamboyance.
Ram engineers and designers have really screwed their thinking caps on tight trying to find ways to make their massive pickups more efficient and nice to look at, and have succeeded in both endeavors, although mostly in the latter. That said, the Ram 1500 boasts best-in-class fuel economy for it's 3.6-liter Pentastar V6 and 5.7-liter Hemi V8 when paired with the new Torqueflite 8 eight-speed automatic transmission. A stop-start feature that shuts the engine off at intersections is among a host of weight and fuel saving measures.
But new engine offerings and high tech efficiency gadgets, combined with weight saving measures here and there, are chipping away at a bigger problem like a guy on top of an iceberg hacking away at it with a pickaxe. Essentially, I'm talking about a cultural issue that Ram and other manufacturers have failed to address: pickups were originally designed for work, and they're gussied up for passenger service and sold to the masses, there's only so much impact a few pounds shaved here and some tech solutions there will make.
All in all, Ram is a very nice truck that's great to drive around, but aside from a lot of well thought out small improvements, it's the same truck America has been driving for the past 20 years (which wasn't terribly different from what came before it). The Chrysler Corporation has done a great job with the details, now it's time — and this goes for all the other manufacturers, too — to focus on the big picture. What's next for people who buy big trucks but don't really need them?