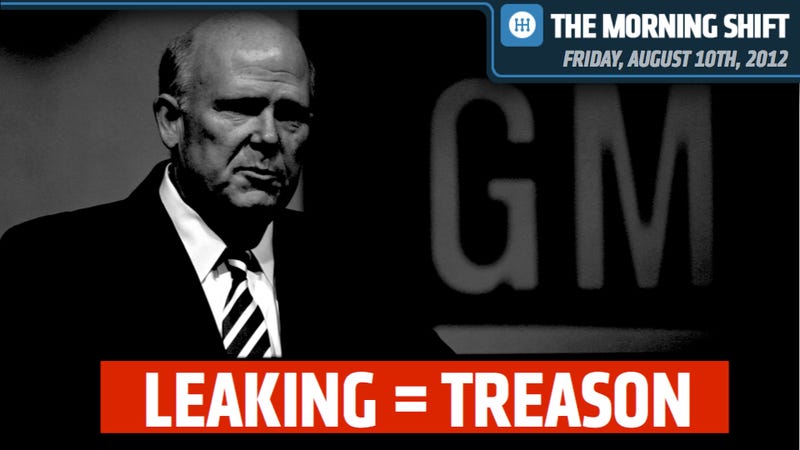 This is the Morning Shift, our one-stop daily roundup of all the auto news that's actually important — all in one place at 9:00 AM. Or, you could spend all day waiting for other sites to parcel it out to you one story at a time. Isn't your time more important?
---
1st Gear: GM Is Leaking And It's Just Got To Stop
The Detroit News reports that GM's CEO, Dan Akerson, is shocked, shocked at all the leaks that have come from the company over the Joel Ewanick situation and he wants to put a stop to them. Akerson seems to have been particularly upset by this week's Bloomberg report that detailed the internal frictions over Joel Ewanick and his alleged failure to disclose the full cost of the $559 million Man U deal. The story "was almost verbatim what happened. That is unfair to anybody whether you think he's right, wrong or in-between," Akerson said.
As Matt said yesterday, there's been an awful lot of trash talk about Ewanick that's been emanating from all corners of GM, some of it on the record, some of it off the record. (It isn't just people in the auto industry who've noticed. Yesterday, Marty St. George, the CMO at JetBlue, tweeted, "Still strangely bothered by @joelewanick's ouster. GM needed change, got change, fired change.") If Akerson is going to get upset about the leaks, then maybe he ought to be questioning why some people get accurate leaks and some get inaccurate ones. Back when the deal was signed for GM to put the Chevy name on Man U jerseys, British newspapers uniformly reported that the deal was worth about $300 million. But Reuters reported correctly that it was worth closer to $600 million. Who gave the Brits the bad info? Was it GM or Man U? Was a low-ball number deliberately leaked to throw people off the trail of the real number?