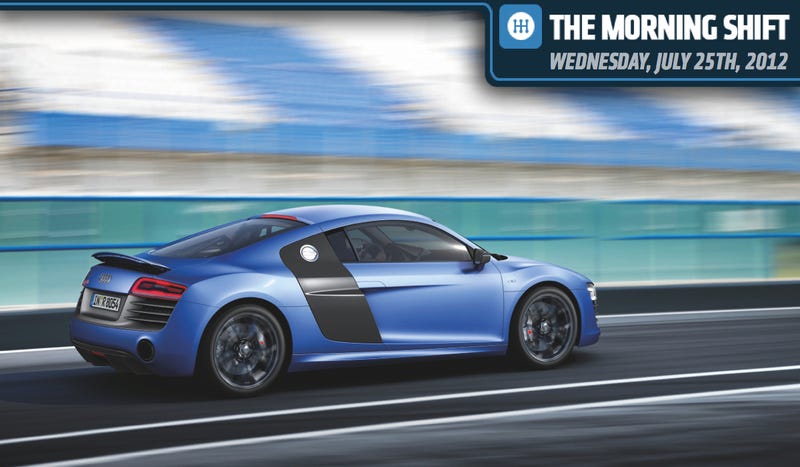 This is the Morning Shift, our one-stop daily roundup of all the auto news that's actually important — all in one place at 9:00 AM. Or, you could spend all day waiting for other sites to parcel it out to you one story at a time. Isn't your time more important?
---
1st Gear: Europe Is A Sea Of Red Ink For Ford
The second quarter is in, and Ford had an expected sea of red ink in Europe during the second quarter. It lost $404 million there, and is now expecting a Euro-loss of $1 billion for the year. (Thanks for hiding that bombshell deep in the press release, guys.) The company calls the situation in Europe more structural than cyclical, which is corporate speak for "we're not going to be able to fix this soon." Overall, Ford's second-quarter net income fell by $1.4 billion to $1 billion, and it's now saying that it expects its 2012 operating income to be lower than 2011. You can read the release here.
Let's put all this in perspective. Everyone has known that GM had terrible issues in Europe, but Ford's European problems are just coming into focus (no pun intended). In order for Ford to stay on the profit path it's been on, all of its operations around the world have to contribute. A serious setback at Ford in Europe will tarnish the crown that Alan Mulally has been wearing since he got to town, and it also will show that GM is far from alone in its struggles overseas. The last thing these two American auto giants need is for all their hard work here to be wiped out by operations outside the U.S.
Meanwhile, Bloomberg reports that the European situation is gloomy at two other companies. Daimler issued a second quarter profit warning, although it blamed its expected decline mainly on the cost of introducing new small models. Daimler said its operating earnings fell to $2.7 billion from $3.13 billion a year ago, although its sales revenue was actually up 10 percent. "Economic uncertainty and risks exist in nearly all regions," said Daimler CEO Dieter Zetsche. "We therefore remain vigilant." Still, Daimler is sticking to its operating profit goal of 9 billion Euros, even as analysts are cutting forecasts. At Peugeot, operating profit plunged to $4.8 million from $1.4 billion a year ago. (When a company Peugeot's size reports a profit that small, it's practically a rounding error). Volkswagen reports its results tomorrow.
---
2nd Gear: Ford Gets Aggressive With C-Max, Also Announces MKZ Pricing
In more Ford news, The Los Angeles Times says it has gotten aggressive in pricing the C-Max Energi plug-in hybrid. It did the math, and says if you include federal tax credits, plus a California rebate on plug-in sales, the C-Max has the lowest price among the industry's three main plug-ins, which also include the Chevy Volt and Toyota's plug-in Prius. For those of us who don't live in California, the C-Max isn't the cheapest choice. It will start at $33,745, before any deals. That compares with $32,795 for the Prius, but $39,999 for the Volt, each before rebates and credits. We're debating it here.