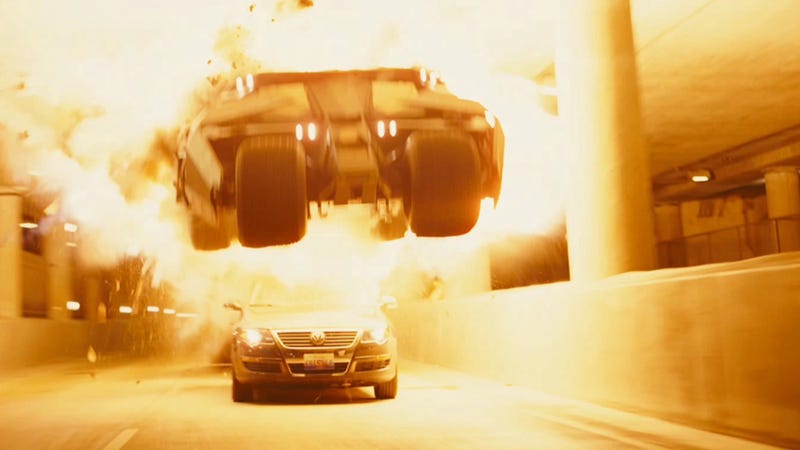 Next week, the long-awaited Batman finale The Dark Knight Rises will drop in theaters across America. Its box office revenues will likely rival the annual GDP of several small countries.
I think it's appropriate that for this proposed feature we take a look back at a famous sequence in the series' second film, 2008's The Dark Knight. Specifically, it's the chase between Batman, the cops and The Joker's 18-wheeler.

I know this scene has received some criticism over its direction and wonky editing, but I think it's great anyway. I love the frantic, desperate pace, the sheer amount of destruction to the vehicles and the city, the lack of computer-generated effects, and the fact that it involves bazookas. It's quite possibly the most exciting part of the entire film.

In the movie, District Attorney Harvey Dent has just confessed to being Batman, and is being taken to jail in an armored police van escorted by cop cars. Unfortunately, the Joker has other plans, and forces the motorcade down into Lower Fifth Avenue by blocking their path with a flaming fire truck (one of the movie's eeriest images).

Down below, the cops are like "turkeys on Thanksgiving," as one cop so eloquently puts it. The Joker takes out their vehicles one by one using a garbage truck and an 18-wheeler. Batman shows up in the Tumbler, but his vehicle too suffers critical damage. With its escorts gone, the police van reemerges onto the upper streets of the Gotham financial district, the Joker's truck in hot pursuit. The villain's men even manage to crash a GCPD helicopter into the ground.

Luckily, Batman emerges in the Batpod and takes the 18-wheeler out in a big way - flipping it end-over-end. In the end, Dent is safe, the mystery driver of the police van is revealed to be a not-dead Jim Gordon, and the Joker is taken into custody. Which is exactly what he wanted…

As most people know, the chase and other parts of the movie were filmed in Chicago. This sequence was shot in the lower level of Wacker Drive near the Chicago River as well as in the city's financial district. The chase scene mostly eschews CGI, while other parts were done using scale models, like when the Tumbler crashes into the garbage truck.

And that scene where the semi-truck flips over? Yeah, they actually did that, flipping it up with a steam propulsion system built into the trailer. IGN can tell you more about it here.