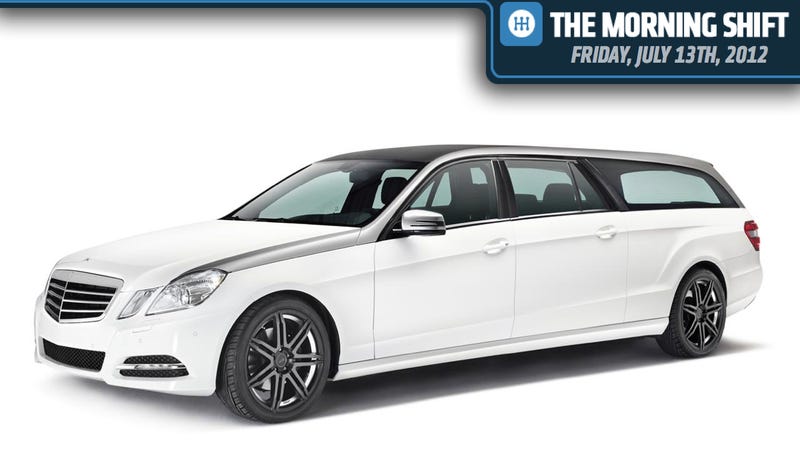 This is the Morning Shift, our one-stop daily roundup of all the auto news that's actually important — all in one place at 9:00 AM. Or, you could spend all day waiting for other sites to parcel it out to you one story at a time. Isn't your time more important?
---
1st Gear: Crazy Driving Can Kill You, Even If You Don't Have A Fiery Death
The New York Times reports on a new study that shows people who are involved in numerous moving violations are at a higher risk of death, even if the final moments don't come in a car accident. Such people are "probably engaging in other high-risk lifestyle activities that lead to death at a higher rate than the average person," said Elliott C. Wallace, vice president and general manger of life insurance at LexisNexis, which was one of the partners in the study. "If you live a very risky lifestyle, you are going to die sooner."
That might seem like a no-brainer, but the statistics are pretty bleak. Having just one major violation on a motor vehicle report elevated the chance of death for the average person by 51 percent, and people with with six or more violations experienced about 80 percent higher mortality rates. The trends were consistent across all age groups and genders, the Times said. If you break down the results by gender, women with major driving violations faced 100 percent greater mortality than women who did not, while men with major violations had 61 percent higher mortality than those who do not, researchers found. So, don't pass on the right, wait for oncoming traffic to clear before you turn, and please, don't speed. (Bracing for comments in three, two, one...)
---
2nd Gear: The French Are Fried Over Peugeot Cuts
Europe 1 reports the French government is appalled over Peugeot's announcement yesterday that it plans to close a factory and eliminate 8,000 jobs on top of 6,000 cuts already announced. Here's something we hadn't realized: over the past few years, France has given the PSA Group nearly $5 billion in aid to help the company restructure and preserve jobs. Well, no wonder they're upset. "We cannot accept something like this," said Social Affairs minister Marisol Touraine. "This is money which was dispersed without any return." The government is going to study the Peugeot cutback plan and issue its own analysis by the end of the month, when everybody goes on vacation for August.
But the new socialist government doesn't have that much standing. For one thing, the Peugeot family pretty much calls the shots at Peugeot. Unlike Renault, the French government isn't a stakeholder. And Peugeot's new partner, GM, probably doesn't want to see any delays in getting to the $2 billion in cost savings that the alliance is supposed to yield.
---
3rd Gear: This Is Not A Chick Magnet
EMercedesBenz brings us the Binz stretch E-class wagon, and to be honest, we kind of wish this one had stayed under wraps. We knew that Binz was working on this, but we wish they'd left the cladding on. The Binz X-Tend is nearly 19 feet long, making it two inches longer than a Chevy Suburban and two feet longer than the Mercedes GL 550. The standard version will sell for just under $98,000. But wait, there's more. Binz is also working on this version, called the X-Orange, with racing seats and four-point seat belts.