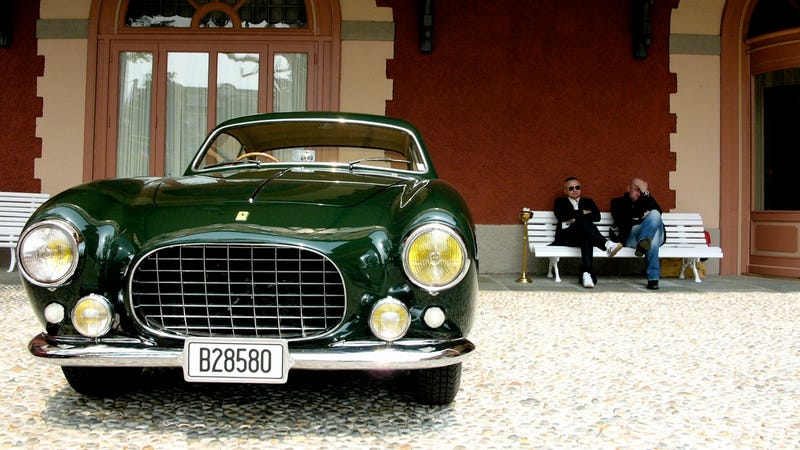 Not long after something happened in the hot, violent, drugged-out summer of 2002 that made me get hooked on cars, I began taking photos of them.
They were generally terrible. Over the years, I've observed, learned, practiced, practiced, observed and practiced some more to end up with a handful of photos I would not call great but at least they're not obviously terrible and they come with stories.
Here they are, a gallery of a dozen.
Ferrari 250 Europa
In April 2007, my friend Larry Parker and I drove from Budapest to Lake Como to attend the Concorso d'Eleganza Villa d'Este. It was a lovely drive in Larry's Peugeot 406 Coupé across the Alps and we arrived to see a classic car beauty pageant of such mind-bending intensity it left me in a semi-catatonic state for days.
At the time, I was writing and editing Belsőség, a Hungarian car blog not entirely dissimilar to the early, Spinelli-era Jalopnik. The total overdose of wonderful cars at Lake Como left the blog in a rather sorry state for a few days until, awake for something like 50 hours, whatever happens in my brain when I write happened and I wrote "An Event Horizon of the Automotive Variety", which is still one of my favorite articles.
I took many photos at the Concorso that year but this has always been my favorite. It's a relatively obscure 1953 version of the protean Ferrari 250, painted a very British shade of green, and accompanied by a pair of the most disinterested Italian dudes I've ever seen.
Porsche Carrera GT
In March 2006, six months after I started writing about cars for a living, IBM flew me to Dubai to show me a system for policing traffic they'd developed for use in the Emirates. The system was pretty creepy, as you'd expect an IBM-developed traffic police system in a country which is rather medieval beneath the glittery surface, but I had a side project to cheer me up. Before I flew to Dubai, I'd emailed Mike Spinelli—who I hadn't known back then but I'd read a post he'd written about Dubai drag racing for Wired—and he'd put me in touch with a Bosnian guy named Zlatko, who worked for a local car magazine. Following Zlatko's directions, I excused myself from an IBM-paid corporate lunch, hailed a cab and had myself driven to the Dubai Autodrome.
A frightening hour followed. The Autodrome turned out to be entirely abandoned and in the middle of the desert. My phone was dead. It was late March, slightly above 90 °F, no shade, and of course I had no water. I spent the next hour wandering around a perimeter fence, then, just after I was ready to do whatever people in the desert do when they're completely dehydrated and slightly delirious from the heat and the glare, I rounded a corner and came upon a surreal cornucopia of supercars. Zlatko was there, too. He's a great guy.
The event turned out to be the first public track day at the Autodrome and people were having fun lapping the circuit in cars ranging from a midget racer with a motorcycle engine to an Ariel Atom and various souped-up 911's. But the star of the evening was undoubtedly this yellow Carrera GT, driven over from Muscat for the day. It was the first and only time I heard it at full throttle. Out there in the desert, parched and delirious and completely high on supercars, it sounded like God's dentist drill piercing the terrible blue sky.
When people were getting ready to leave, I took this photo of the cooling Carrera on the tarmac, set against a traffic jam of trucks carrying, undoubtedly, the underpaid South Asian laborers who've built these weird cities in the Gulf. Later, a Russian boy named Stas showed me what it's like to do 150 MPH in his red Honda Civic Type–R while looking at local Arab kids making tea on the dunes and riding white Toyota SUV's in the sand.
I've yet to read Seven Pillars of Wisdom.
2007 24 Hours of Le Mans
I'd long been interested in the 24 hour race and 2007 was the year I finally got a chance to go, arriving in Le Mans after a grand and very boring 1,100-mile drive from Budapest. I took this photo above Tertre Rouge corner at precisely the halfway point of the race, at 3 AM on Sunday. I'd been straight awake for something approaching 72 hours and I wouldn't go to bed—if you can call the rear seat of a Citroën C4 Picasso a bed—for another 14 or so. In the long, cold hours that remained before the late Sarthe sunrise, I would have proper visual hallucinations.
This has always been my favorite photo of Le Mans, which is one of the most visceral and life-changing experiences I've ever had. The relentless push for an unimaginably far-off finish. The alien, discordant landscape. The constant noise which makes you forget about a world with no constant noise. The people who stay awake all night, living in a dark world with nothing but the noise and the harsh searchlights of racing cars to keep them company.
Five years on, my experience at Le Mans remains how I've always pictured the Hajj. To go somewhere far-away, familiar and strange at the same time, with masses of strangers, the only connection to them the common belief that racing cars is glorious. To deprive the body of food and drink, to deprive the senses of everyday stimuli and overload them with something beautiful and alien, to experience a rapture of sorts.
Le Mans is not fun. It's a transformation of whoever you are into something else. If you'll ever go, stay awake. Weird shit will happen.
Jason Castriota and the Bertone Mantide
In 2009, freshly hired by Jalopnik, I returned to Lake Como, this time with my future wife Natalie Polgar. We drove across Southern Austria this time and arrived just in time for the show to begin on Saturday morning.
We met a very cool guy in colorful skateboard shoes named Bradley Farrell, the Ferrari-owning lover of goats, who introduced us to Jason Castriota, who'd recently left Pininfarina for Bertone and came to Lake Como to show off his first concept car for Bertone, the Corvette-powered Mantide. Castriota is my favorite contemporary car designer and meeting him was a pleasant exception to the rule that you should never meet your heroes.